Jimmy Heath and the William Paterson Jazz Orchestra to Perform at William Paterson University on November 8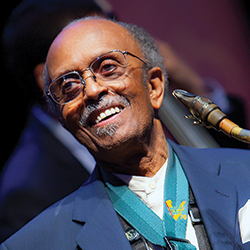 Jimmy Heath
Legendary saxophonist and composer Jimmy Heath will perform with the William Paterson Jazz Orchestra on Friday, November 8 at William Paterson University in Wayne. The concert will be held at 8 p.m. in the University's Shea Center for Performing Arts as part of this season's Jazz Room series.
Tickets are available at the Shea Center Box Office at 973.720.2371 or wp-presents.org for $15 general, $12 for senior citizens and William Paterson faculty, staff and alumni, $8 non-William Paterson students and free for William Paterson students. There will be an additional $3 charge per ticket on show day.
Prior to the concert, Heath will be the guest for "Sittin' In," an informal discussion about jazz at 7 p.m. Admission is free to all Jazz Room ticket holders.
Heath is one of the original voices of modern jazz. He sat with John Coltrane in the sax section of Dizzy Gillespie's big band in the 1950s and continues to perform. He has had a successful solo career and gained critical acclaim for his co-leadership of The Heath Brothers with his brothers, drummer Albert "Tootie" Heath and the late bassist, Percy Heath. Heath will join David Demsey and the William Paterson Jazz Orchestra for a night of jazz music not only as a performer, but also as the composer and arranger of much of the program.
Launched in 1978, the Jazz Room is one of the largest and most prestigious college-sponsored jazz events in the country. Performers include renowned professionals who encompass the complete spectrum of jazz, as well as William Paterson's own student ensembles. The series has won numerous grants from the New Jersey State Council on the Arts for its innovative programming.
10/30/13