William Paterson University Students Win Top Prize at 2016 Financial Planning Association Challenge Competition
Winning team competed against 13 other finalist schools in the nation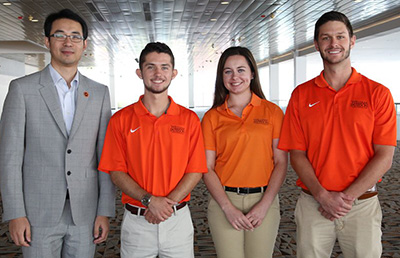 From left: Professor Tao Guo, with students Matthew Callander, Stephanie Spies, and Eric Vartanian
Three students in William Paterson University's Cotsakos College of Business won the top prize at the Financial Planning Associations (FPA) National Financial Planning Challenge held in Baltimore, MD from September 12 to 16, 2016.
Seniors Matthew Callander of Branchburg, NJ, Stephanie Spies of Clinton, NJ, and Eric Vartanian of Jefferson, NJ made up the William Paterson winning team that competed against thirteen other finalist schools in the nation.
Tao Guo, assistant professor in the College's Department of Economics, Finance and Global Business, served as the team's advisor. The competition consisted of a written case, oral presentation and knowledge quiz bowl.
The students will bring home $10,000 in scholarships for William Paterson University and will receive a full scholarship to the Financial Planning Association's residency program.
Since its inception in 2009, William Paterson's financial planning program continues to generate buzz in the industry with students garnering top awards in national competitions. William Paterson has been ranked as one of the nation's top schools for future financial planners by Financial Planning Magazine.
09/16/16
09/16/16