"The Real Big Bang Theory: How the Universe Began" Explored in Lecture and Stargazing Event on April 25 at William Paterson University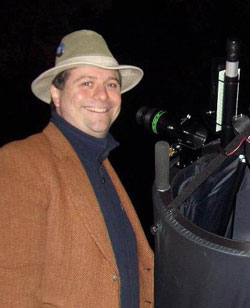 Jason Kendall
"The Real Big Bang Theory: How the Universe Began" will be the subject of a lecture and stargazing event at William Paterson University in Wayne on Thursday, April 25, 2013.
Jason Kendall, NASA/JPL Solar System Ambassador for New York City and an instructor of Introduction to Astronomy at William Paterson, will present the lecture at 6:30 p.m. in University Commons, Room 168AB. After the lecture, if it is clear outside, everyone will be invited to go to the football field on campus and view Jupiter and the Moon through telescopes.
Kendall will describe the evidence for the Big Bang and detail the recent results from the Planck Mission, which has rediscovered the influence of dark energy and the acceleration of the cosmos. He will also discuss the Cosmic Microwave Background, the origin of atoms, and the size of the universe.
Children and families are welcome. The event is free. Visitors are invited to park in Lot 4. For directions go to www.wpunj.edu/maps.
For more information about the event, call 973-720-2195 or email ChungS@wpunj.edu.
04/22/13