A Beautiful Celebration of Pioneer Art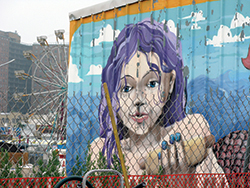 "Coney Island Girl" by Ellen Denuto
By Theresa E. Ross '80
For nearly five decades, William Paterson University has been graduating visual artists. For the first time, twenty-eight of those alumni artists were showcased in a juried exhibition on campus.
The exhibition featured a beautiful range of works, from paintings to mixed media, in the University's Power Art building from August through September 2013. The participating artists were selected for inclusion from nearly sixty entries. Three William Paterson University art faculty served as jurors for the exhibition: Lauren Razzore, associate professor of art and chair of the art department; Charles Magistro, professor of art; and Alejandro Anreus, professor of art.
"We were impressed with the diversity of media and the vision of the artists," says Anreus. "What made the process fun was that the jury consisted of two visual artists and an art historian. Each juror brought a distinct perspective but ultimately sought work of the highest quality."
Among the works selected for the exhibition were mixed media abstractions by Virginia Block '68, MA '71, one of the early graduates of the University's art program and the co-founder and first president of Studio Montclair. Also featured were paintings by three current University faculty members: Miriam Bisceglia, MFA '05, Giovanna Cecchetti, MFA '03, and Andrea Geller, MFA '04.
The exhibition also included mixed media works by Alphonso Dunn '04, recipient of a prestigious 2013 New Jersey State Council on the Arts Artist Fellowship. Lazaro Juan, a 2012 graduate, created a site-specific installation, "Altar of the jubilant rants."
Other artists included in the exhibition were Jennifer Baum '04, Evertt Beidler '98, Ellen Denuto '74, MA '96, Wendy Erickson, MFA '04, Juan Giraldo '09, Mehdi Hashemi '09, Lisa Hirkaler '02, Constance Kocur-Stephens '08, Paul Moench '93, Angelica Munoz '05, Diane Neglio '04, Adam Nowicki, MFA '12, Sharon Pflug-Moench '91, Diana Jean Puglisi '11, Tara Raye Russo '00, Jennifer Yukie Ueda '10, Daniel Valentin '08, Lydia Viscardi, MFA '06, Kali Wallace '13, Michael Wolf, MFA '06, Karla Wong '09, and Tami Crupi Zeman, MFA '10.
Organized by the William Paterson University Galleries, the William Paterson University Art Department, and the William Paterson University Office of Alumni Relations, the exhibition was made possible in part by funds from the New Jersey State Council on the Arts.
11/22/13