New Provost Warren Sandmann Sets His Agenda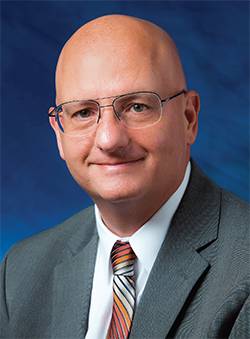 Warren Sandmann
By Mary Beth Zeman
When Warren Sandmann, the University's new provost and senior vice president for academic affairs, first visited William Paterson as part of the interview process, he says he immediately felt at home.
The students here are the student I was," he says. "It was very clear. Every time I went past a classroom, even an empty one, there were students preparing and studying. It was really nice to see."
Sandmann, who previously served as associate provost at Minnesota State University, Mankato, says he also was impressed with the energy on campus. "There were a hundred people at an open forum to meet me," he recalls. "I really felt an interest and awareness that the University does good things and desires to do better things."
On the job since July 1, Sandmann says he is excited to be here. "William Paterson has a strong sense of community, which is a real strength," he says. "It is wonderfully diverse, and the faculty and staff are truly committed to helping our students." He has filled the walls of his office in Raubinger Hall with photographs by University photography students—a reminder of the community he is here to serve.
A native of Sleepy Eye, Minnesota, a town of 3,600 in the south central part of the state, he was a first-generation college student. "My parents didn't go to college—my dad was a bartender, my mom was a secretary."
Sandmann started as a political science major, then switched to music (he played saxophone in high school and college) but realized he was not talented enough to pursue music as a career. "So I started to cast around, and realized I liked to read all the time—and liked to argue—so a degree in English and speech seemed perfect."
Upon his graduation in 1983, Sandmann thought he would get a job as a teacher, but positions were scarce. "My hometown paper, which was a small weekly, had an opening," he says. "I ended up as the editor and learned everything about publishing a newspaper, and how to write concisely and clearly. But I couldn't see myself working eighty to ninety hours a week, and I still wanted to teach, so I went back to school to earn my special education teaching certification."
He found a job teaching English, speech, and special education in a tiny town in northern Minnesota, pursued a master's degree in speech communication from Minnesota State University, Mankato, and realized he was interested in teaching on the graduate level. He received his doctorate in communication studies with an emphasis in rhetorical studies in 1992 from the University of Iowa.
Sandmann began his higher education career at the State University of New York, Geneseo, moved to San Jose State University, and then he returned to Minnesota State University, Mankato, in 1996, as a faculty member and assistant director of the speech and debate program. He worked at Mankato for sixteen years, serving as professor and chair of the Department of Communication Studies, and held a number of administrative positions, including assistant vice president for undergraduate studies and associate vice president for academic affairs before assuming the position of associate provost in 2011.
Sandmann's major academic agenda going forward is to focus on student success. "I come from a K-12 background where the philosophy is everyone will learn," he says. "I believe it is our job to help our students succeed. When I recently spoke to our incoming freshmen, I reminded them that this is the only time everything really does revolve around them. We have a tremendous opportunity to make sure our students are learning."
In particular, he is concerned about providing students with the resources they need. "Part of our mission is to reach students who are traditionally underserved," he explains. "They need more support services—student support services, tutoring, programs at a variety of hours—because many of them go to school when they can, work when they can, or are taking care of their families."
Critical as well, he says, is providing students with the skills they need to enter and advance in the workplace. "When I talk to employers, they want students to have communication skills, be able to work as part of a team, and know how to work and play well with others," he says. "We teach these skills regardless of the discipline. In today's economy, the job you get hired for right out of school is not what you may be doing three years later or ten years later. We need to teach students how to be adaptable. That's what William Paterson does well."
Among the initiatives he plans to pursue are the development of online programs, especially on the graduate level; partnerships with county colleges and the New Jersey business community; and building on the strength of the University's short distance to New York City, particularly in terms of attracting international students.
He is also a strong proponent of encouraging students on the undergraduate level to finish their degrees in four years. "I worked at the Del Monte canning factory in the summers to pay for my tuition," he says. "Students can no longer work only in the summer to pay for school. Today is a very different world, especially from a financial point of view, but we need to encourage and assist students to finish in four."
Currently, he is focused on settling into life in New Jersey with his wife, Cathy, and their son, Kyle, who just began his freshman year at Fordham University. He continues to indulge in his passion for reading—"anything and everything"—as well as for soccer; he is a certified U.S. Soccer Federation referee and has officiated at games from youth leagues to the adult level.
Overall, he says his first year on campus will be one of communication and collaboration. "I want to continue to enhance the community feeling here as a university, and talk about how we do things together," he says.
As a former debate coach, his style is direct, and he admits that he likes to ask questions. "I tell people that what they see is what they get," he says. "I used to teach interviewing, and I would tell my students that you can put on a show for an hour, but if they buy it, you have to be that person for the rest of your life. I like what I do, and I am thrilled to be here."
11/22/13