Former New Jersey Governor Thomas Kean to Give William Paterson University Commencement Address on May 15 at Izod Center
--Philanthropist David F. Bolger and entrepreneur Spyros Lenas to receive honorary doctor of humane letters degrees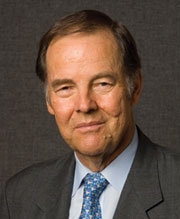 Former New Jersey Governor Thomas H. Kean
Former New Jersey Governor Thomas H. Kean will give the commencement address at William Paterson University's 190th commencement ceremony on Wednesday, May 15, 2013.
The ceremony will be held at 10 a.m. at the Izod Center in East Rutherford. During the ceremony, philanthropist David F. Bolger and entrepreneur Spyros Lenas will each receive an honorary doctor of humane letters degree. The commencement will include speeches by a graduating bachelor's degree and a graduating master's degree candidate, as well as the presentation of three faculty recognition awards for teaching, scholarship and service.
Bachelor's and master's degrees will be conferred upon candidates who have completed their degree requirements between August 2012 and May 2013. Alumni from the Class of 1963, who graduated when William Paterson was called Paterson State College, will be present at the morning ceremony along with members of the Pioneer Society, those alumni who graduated at least 50 years ago. The Alumni Association's Young Alumni Chapter will host a Senior Send-Off reception on Tuesday, May 14 at 7 p.m. in the University Commons Ballroom on campus.
Governor Kean was nominated by a committee of faculty, staff and students for his commitment to service on the state and national level. In addition to serving as governor from 1982 to 1990, and as chair of the 9/11 Commission that investigated the terrorist attacks, he has been dedicated to furthering higher education in New Jersey, both as president of Drew University from 1990 to 2005, and more recently as chairman of the state's Higher Education Task Force and as a strong proponent of the passage of the "Building Our Future" Bond Act that provides funds for facilities projects at the state's colleges and universities.
"Given his exemplary role in public service, his insight into state and national issues, and his impact on higher education in New Jersey, his remarks will be particularly relevant to our students as they complete their college careers," says Kathleen Waldron, president of William Paterson University.
David F. Bolger, a native of Pennsylvania whose parents migrated to the United States from the Netherlands, founded Bolger & Co., Inc., a real estate development firm, in 1996. He will receive an honorary doctor of humane letters degree in recognition of his outstanding philanthropic contributions to society. Bolger is president of The Bolger Foundation, which provided funds for William Paterson's Nel Bolger, RN Nursing Laboratory in memory of his aunt, a Dutch nurse who was a leader in the underground movement in Holland during the Nazi occupation. In 2007, Bolger was honored by the William Paterson University Foundation, which presented him with a Legacy Award in recognition of his generous contributions to the University.
Entrepreneur and real estate developer Spyros Lenas also will receive an honorary doctor of humane letters degree. A resident of Wayne, Lenas is the founder and chairman of Lenfam Management Company and its affiliates. His vision of assembling the vacant land at the intersections of Route 23, Route 46, and Route 80 led to his arranging the development of the Willowbrook Mall as well as a number of other commercial properties throughout New Jersey. After emigrating from Greece to the United States as a young man, he began investing in movie theatres and later in real estate for shopping malls, residential properties, and restaurants. Mr. Lenas was a founding member of the University's Foundation Board.
William Paterson University, one of the nine state colleges and universities in New Jersey, offers more than 250 undergraduate and graduate academic programs through five colleges: Arts and Communication, Cotsakos College of Business, Education, Humanities and Social Sciences, and Science and Health. Located on 370 hilltop acres in Wayne, the university enrolls more than 11,500 students and provides housing for nearly 2,700 students. The institution's 400 full-time faculty are highly distinguished and diverse scholars and teachers, many of whom are recipients of prestigious awards and grants from the Fulbright Program, the Guggenheim Foundation, the National Endowment for the Humanities, the National Institutes of Health, and the National Science Foundation.
04/23/13