Fourth Annual Cross-Cultural Arts Festival at William Paterson University Features Korea Week Beginning April 1
--Korea Week is a festival of academic discussion, performances, music and food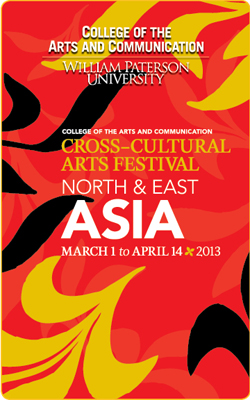 The fourth annual William Paterson University Cross-Cultural Art Festival will celebrate the Asian cultures of Korea, Japan and China on campus in Wayne from March 1 to April 13.
Korea week begins on April 1 with a Korean Film Festival and a music performance. Other highlights include a panel discussion, traditional calligraphy, displays, a K-pop dance performance and Korean food. The week of events will close on April 5 with "Sounds of Korea," the premier performance group of Korean traditional arts in the U.S. The troupe will perform traditional Korean music and dance.
The Korean Film Festival will take place in the Cheng Library on campus. Featured films include: "Scandal Makers" on Monday, April 1 at 4 p.m.; "The King and the Clown" on Tuesday, April 2 at 2 and 4:30 p.m.; "Hangeul Becomes an Art" on Wednesday, April 3 at 2 p.m. and "Hanbok" at 4 p.m.; and a second showing of "Scandal Makers" on Thursday, April 4 at 12:30 p.m. The film series is free and open to the public.
William Paterson students can enjoy a K-pop dance performance, calligraphy, displays and refreshments in the Atrium Lobby on Tuesday, April 2 from 12:30 to 2 p.m.
The CCAF Poetry Contest award ceremony will held be at the University's 1600 Valley Road campus on Tuesday, April 23 at 3 p.m. The contest is accepting original, unpublished poetry on any topic that relates to any country in Northeast Asia and is open to middle and high school students. Poems will be accepted until March 31 via email to Professor Carrie E. Hong at honge1@wpunj.edu.
A panel discussion, "Korean Wave (Hallyu): From the Land of the Morning Calm to the Bustling Cultural Hub," will include University professors from the College of Education, the College of Humanities and Social Sciences and the College of the Arts and Communication to discuss Korea's economic growth, globalization, and information technologies. The event will take place in the University Commons Ballroom C on Thursday, April 4 at 12:30 p.m. The panel is free and open to the public.
The weeklong event will culminate on April 5 at 8 p.m. with the "Sounds of Korea" performance, which consists of a dance troupe, an instrumental chamber ensemble, and a percussion ensemble. The repertoire of "Sounds of Korea" has a variety of styles and settings, from classical court music and dance traditions to theatrical masked dances, popular narrative vocal arts, solo instrumental folk genres, as well as the percussion music and dances of farmers. The performance will take place in the Shea Center for Performing Arts on campus. Adult tickets are $15, senior tickets are $13, and children are $10. Tickets are available at wp-presents.org or 973.720.2371.
# # #
03/05/13