University Offers Summer Pre-College Youth Programs for Middle/High School Students in Subjects Ranging from Music to Writing to Business Practices
New this summer, three college-credit classes for high school students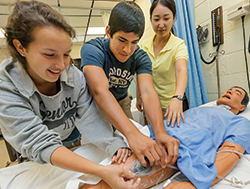 Learn to spin records like a real DJ, write novels like a published writer, or pick up some tips on how to be successful in the business world. These are just a few examples of the 60 courses and workshops offered during William Paterson University's Summer Youth Programs to be held on the campus in Wayne from June 30 to August 8.
Three new classes are now offered for college credit for high school students who have completed their sophomore and/or junior year. Qualified students can earn three college credits with William Paterson University faculty. Students may select one of the three courses: COMM 1010, Communication in Action; SOC 1020, Social Problems; or POL 1250, Law in Everyday Life. Courses also include options including experiencing residential life on the University campus, studying with college student tutors, and taking SAT prep workshops.
Registrations submitted before June 1 receive a 10 percent discount. The Pre-College Program for High School Students immerses students entering grades 9 to 12 in a unique university summer experience from July 7 to August 1. Participants may choose from more than 40 exciting programs, and stay in the residence halls or commute. The Pre-College Program workshops give students a sampling of different career possibilities in order to discover their abilities and talents, and explore the career paths that best fit them. Courses include the 21st Annual Summer Jazz Workshop; Drawing and Painting with Portfolio Review; Fundamentals of Effective Business Management; SAT Verbal and Math; Radio Disc Jockey (DJ) and Broadcasting; Writing Institute: Journalism and Fiction; Pre-Law: Anatomy of the Case; and Guitar in Classical, Jazz and Rock.
Middle School Workshops for students entering grades 6 to 8 in September 2014 are designed to stimulate pre-teen and teen imaginations and creativity.
The Summer Life on Campus Program is a unique summer day camp for students entering grades 6 to 9 in September 2014. A typical week includes well-supervised enrichment and academic workshops, indoor and outdoor activities using University facilities, and a weekly field trip. This is an ideal program for working parents who prefer to place their child in a safe, well-managed environment where both academic and recreational activities are offered. The program is scheduled to run Monday to Friday, 8 a.m. to 6 p.m., from June 30 to August 8. Lunch is included.
The Summer Youth Programs are sponsored by the University's Center for Continuing and Professional Education. For additional information, call 973.720.2436, visit the website at www.wpunj.edu/cpe, or email youthprograms@wpunj.edu.
04/25/14