University Fosters Collaboration Between Guyana And School in Paterson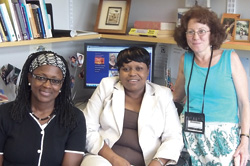 Hilary Wilder, right, Carlene Anderson '02, left, and Marcia Thomas of Guyana's Ministry of Education
A meeting last summer between a University education professor and a director in Guyana's Ministry of Education has led to a collaboration between third grade classes at School No. 12 in Paterson and Comenius Primary School in Georgetown, Guyana.
Hilary Wilder, an associate professor of educational leadership and professional studies, immediately thought of Carlene Anderson '02, a third grade teacher at School No. 12, one of the University's Professional Development Schools, when she learned that Marcia Thomas, director of continuous professional development and coordinator of information and communication technology in Guyana's Ministry of Education, was seeking to develop a classroom collaboration in the United States. Anderson, a language arts and social studies teacher, has been an advocate of engaging her students in real-life experiences, including social action projects, digital story-telling, and interaction with students across the United States and in other countries.
Wilder, Thomas, Anderson, and Salika Lawrence, an associate professor of educational leadership and professional studies and a native of Guyana, formed a professional learning community that meets weekly via Skype to discuss and plan out collaborative projects that are aligned with social studies, language arts, and technological literacy standards for students in Paterson and Guyana.
The ongoing Skype collaboration, which began in the fall, has included lessons on topics such as immigration and cultural identity, which are common issues for students in both classrooms. "It has been fascinating to see the interaction unfold," says Wilder, who often attends the weekly sessions. "My interest is in using technology to help expand world views, especially when travel or study abroad might not be an option." The project was recently fea- tured as a segment on Classroom Close-up, NJ, a weekly television magazine program focusing on innovative projects happening in New Jersey public schools.
06/07/12