Michela Clovis Named 2012 Alumni Association "Outstanding Senior"
Graduate granted highest honor by Alumni Association.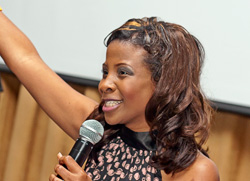 Michela Clovis
Michela Clovis, who graduated from William Paterson on May 22 with bachelor's degrees in political science and communication, has been named the 2012 "Outstanding Senior" by the University's Alumni Association.
The award, which has been presented annually since 1962, is the highest honor bestowed by the Alumni Association. The recipient is selected based on strong involvement in extracurricular activities, demonstrated leadership ability, service to the University, and high academic standing.
Clovis has been involved in numerous activities during her time on campus. She served as senior class president during the 2011-12 academic year, and previously held the positions of Student Government Association vice president and executive vice president.
A dedicated student who also completed minors in legal studies and French, Clovis spent her junior year abroad at the Universite de Sherbrooke in Montreal, Canada, where she interned with the Quebec Parliament, and served as spokesperson for the National Student Exchange Program. During fall 2011, she interned in the Newark office of U.S. Senator Frank Lautenberg. In recognition of her achievements both in and out of the classroom, the Department of Political Sciences presented her with the 2012 Academic Excellence and Service Award. She is a resident of Maplewood.
05/23/12