Campus Groups Raise $5,000 During Second Annual Suicide Prevention Campus Walk
Campus community walks to raise awareness for suicide prevention.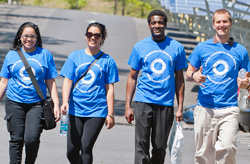 More than two hundred William Paterson University community members joined forces on April 29 to raise money and awareness for suicide prevention during the second annual Suicide Prevention Campus Walk at the University.
The event, held in collaboration with the American Foundation for Suicide Prevention, included a 5K walk, dance and vocal performances, remarks by Kimberly Longstreet, the University student who raised the most donations and worked to spread awareness of the event, and the symbolic release of two homing doves. To date, this year's event has raised $5,000 to support programs on suicide prevention and depression.
In addition, the American Foundation for Suicide Prevention again recognized the University's pioneering role in organizing the first campus walk in New Jersey in 2011. "We were proud to be recognized for this student-led effort to raise awareness about this important issue," says Francisco Diaz, assistant vice president for campus life, "and especially gratified to know that our walk inspired three additional New Jersey colleges to hold walks this year."
Numerous student groups and University departments participated in the event including Campus Activities and Student Leadership, Counseling Health and Wellness Center/Peer Health Advocates, CHOSEN: Gay Straight Alliance, Student Activities Programming Board, Student Government Association, Residence Life, and the Women's Center, and the Office of the Vice President for Student Development.
05/23/12