Music by Alumnus Peter Jarvis Included in New Wes Anderson Film Moonrise Kingdom, Set for May 25 Release
Music professor scores in new Hollywood film.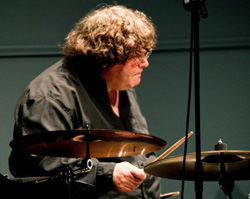 Peter Jarvis
The highly anticipated comedy drama Moonrise Kingdom, which premieres in the United States on May 25 after opening the Cannes Film Festival earlier this month, features a soundtrack partially scored, arranged, and performed by alumnus Peter Jarvis. Jarvis is a percussionist, conductor, drummer, composer, and educator who also has taught as an adjunct professor in the University's Music Department for nearly two decades.
His involvement in the film as a composer included various individual projects ranging from adding music to a score by Benjamin Britten to original compositions for several specific scenes. As an arranger, he worked on music contributed by others, and as performer he led the percussion section and provided several improvisations. His music is included on the movie's original soundtrack, which was released on May 22.
"It was an absolute treat to work on this movie, especially with director Wes Anderson," says Jarvis. "Working on movie music is a little different than working on other music because of context, but it is perhaps more similar than different--I like to think composing is composing. It was a very exciting and gratifying project and I hope to be involved in more movies."
Jarvis also performed his own improvised solo percussion music, "On the Boardwalk," for an episode of the HBO series Boardwalk Empire. He has performed as a soloist, chamber player, and as a conductor with numerous chamber music ensembles including The Chamber Music Society of Lincoln Center, the Group for Contemporary Music, Talujon, and the New Jersey Percussion Ensemble, which he directs. Countless works by composers such as Milton Babbitt have been written for him and/or his ensembles and he has premiered well over one hundred pieces.
05/23/12