Entrepreneurs Margaret Lam and David Yen and Government Affairs Executive Dennis F. Marco '75 Honored During William Paterson University's 22nd Annual Legacy Award Gala
The Legacy Award honors those who epitomize the spirit of the University's namesake.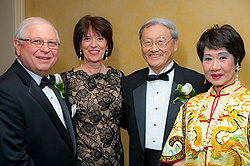 (From left) Dennis Marco, Kathleen Waldron, David Yen and Margaret Lam
Entrepreneurs Margaret Lam, chief executive officer of Prosperity Resources International, Inc., and David Yen, a retired investment banker, and Dennis F. Marco '75, managing partner of Hamilton Public Affairs, were honored as the William Paterson University Foundation hosted its 22nd annual Legacy Award Gala on Friday, April 27, 2012 at The Villa at Mountain Lakes. The gala is the Foundation's principal fundraising event to support the University's mission of promoting student success and academic excellence.
"Support of the Legacy Awards is crucial to the University's ability to provide the access and opportunities needed for our students to thrive, and to succeed in college and throughout their lives," says William Paterson University President Kathleen Waldron. "The development of scholarship support for our dynamic, hard-working students is a very personal cause for me since the scholarships I received made my own education possible. I understand the importance for scholarship support as an educator, and as a recipient."
The Legacy Award honors individuals and corporations who, through their acts and deeds, epitomize the spirit of William Paterson, the University's namesake and the New Jersey patriot and statesman whose visionary leadership was critical in development of the state and nation.
Margaret Lam and David Yen of Montville received a Distinguished Friends Legacy Award. They recently donated funds to establish and support the University's Center for Chinese Art which is dedicated to providing opportunities for students to study Chinese art. The couple, who serve as honorary directors, have donated gifts and pledges to the University for the Center on campus. Their gift supports the University's Chinese art curriculum, provides students with opportunities to learn Chinese art techniques, and cultivates a deeper understanding between the United States and its Chinese residents through ongoing programs and events coordinated by Zhiyuan Cong, professor of art and the Center's director.
Born in Hong Kong, Lam has lived in the United States for more than 40 years. She currently serves as chief executive officer of Prosperity Resources International, a wholesale import business, and as the American agent of Golden Resources International Development Inc. of Hong Kong. Active in numerous community activities and committed to fostering and strengthening the relationship between Chinese people who live in different countries, Lam also works to promote the appreciation of Chinese culture in America. She founded the annual Chinese Festival of New Jersey more than 20 years ago at the request of then-governor Thomas Kean. Lam has served as president for many Chinese organizations and currently sits on the board of directors of the New Jersey Chinese-American Chamber of Commerce. She is also active in civic affairs in her own community, where she has served on the Fair Housing Committee, the Township Scholarship Committee, and the Fourth of July Committee. Additionally, she served on the New Jersey State School Ethics Commission for five years and was the Ethnic Advisory Counsel to the Governor of New Jersey. She is the recipient of numerous awards including the Ellis Island Medal of Honor Award.
David Yen was born in Beijing. He and his family fled Japanese-occupied China just before World War II. The son of a professor at Peking University, he and his family were relocated to Yunnan Province where they remained for the duration of the war. In 1947, Yen entered Carleton College on a full scholarship, earning a degree in international relations and economics. In 1969, he joined Chase Manhattan Bank in New York City as an investment banker, concentrating on foreign institutions and their U.S. holdings. After retiring as vice president, he taught income tax accounting and provided assistance to others with their tax returns. Active in civic affairs, he served as treasurer and trustee for his church. He was president of the Edison Chinese Lions Club and vice president of the New Jersey Alliance for Learning and Preserving the History of World War II in Asia, and served on the board of directors of the Greater New York Dollars for Scholars. Yen has served as vice president of the New Jersey Chinese Festival for more than 20 years.
Marco, a resident of North Haledon, received the Distinguished Alumnus Legacy Award. He is the managing partner of Hamilton Public Affairs, a public affairs and government relations firm that assists companies in managing regulatory and legislative issues at the local, state and federal levels. He was formerly vice president of Porzio Government Affairs, LLC, a subsidiary of Porzio Bromberg & Newman P.C., one of the top fifteen law firms in the state. Previously, he worked for many years for Horizon Blue Cross Blue Shield as vice president of external affairs and corporate communications. During his career, Marco has monitored legislative activities, acted as a liaison to federal and state agencies, and directed major government consolidation and reorganization of the New Jersey Department of Commerce and Economic Development as deputy commissioner. Early in his career, he served as special assistant to former U.S. Senator Bill Bradley. Marco earned a bachelor's degree in political science from William Paterson and was a former member of the William Paterson University Foundation Board. Additionally, he chaired the Foundation's scholarship committee and served on its board of directors. Both his wife Annabelle '73 and daughter Christa '01 are graduates of the University.
William Paterson University, one of the nine state colleges and universities in New Jersey, offers more than 250 undergraduate and graduate academic programs through five colleges: Arts and Communication, Cotsakos College of Business, Education, Humanities and Social Sciences, and Science and Health. Located on 370 hilltop acres in Wayne, the University enrolls 11,500 students and provides housing for approximately 2,600 students. The institution's 389 full-time faculty are highly distinguished and diverse scholars and teachers, many of whom are recipients of prestigious awards and grants from the Fulbright Program, the Guggenheim Foundation, the National Endowment for the Humanities, the National Institutes of Health, the National Science Foundation and the American Philosophical Society.
05/23/12