New Musical "Daybreak" in Hunziker Theatre June 7-24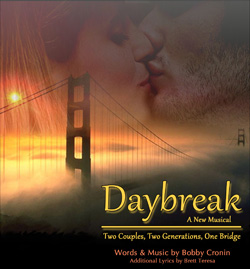 "Daybreak," by Bobby Cronin, the winner of the 8th annual New Jersey Playwrights Competition Musical Series, will be performed at the Hunziker Black Box Theatre on the William Paterson University campus from June 7 to 24.
"Daybreak" is a non-traditional, coming-of-age musical journey, centered on the dark places people go when they feel lost, scared, broken, or alone. Set in the shadow of San Francisco's Golden Gate Bridge, two couples explore the mysteries that bind them, their relationships, family ties, expectations, and dreams, and discover patience and courage.
Show times for "Daybreak" are June 7, 8, 9, 15, 16, 22 and 23 at 8 p.m.; June 10, 17, and 24 at 8 p.m.
Bobby Cronin, the composer and lyricist of "Daybreak," is a New Jersey-based musician and a Yale graduate. He is a three-time ASCAP PLUS award recipient and has directed, written and composed various works that have been used by theatre companies from New York City to Japan. Currently, Cronin is in London for a production of "Daybreak." He is the first American to write an original musical for the ArtsEd School.
This production of "Daybreak" is directed by Edward Matthews, director and founder of the New Jersey Playwrights Competition, with musical direction by Warren Helms and Charles Santoro, and additional lyrics by Brett Teresa. Bill Motyka is the scenic and lighting designer, John Todd Erwin is the sound designer and the costume designer is Carol Sherry. The cast is comprised of Jodi Bluestein, Amy Burgmaier, Brett Dameron and Daniel Kirkley, all of New York.
All tickets will be $10 on June 7. A "meet-the-author" session will immediately follow the June 22 performance and an author reception follows the performance on June 23.
Tickets are $22 for the general public, $16 for William Paterson University community and senior citizens and $10 for non-William Paterson University students. For more information, please contact the box office at 973-720-2371 or visit wplive.org.
# # #
05/21/12