Executive Women of New Jersey to Honor William Paterson University President Kathleen Waldron at "Salute to the Policy Makers" 2012 Awards Dinner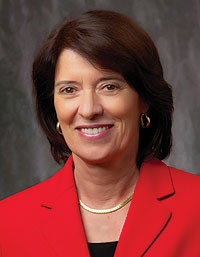 President Kathleen Waldron
Executive Women of New Jersey (EWNJ) will honor Kathleen Waldron, president of William Paterson University in Wayne, at its Salute to the Policy Makers 2012 Awards Dinner on May 17, 2012, at the Hyatt Regency New Brunswick in New Brunswick, NJ. Currently in its 32nd year, EWNJ holds the biennial fund-raising event to recognize women of professional distinction in New Jersey.
"Since its founding in 1980, EWNJ has championed the advancement of women to the most senior levels of international corporations, non profits, and public service firms. At this year's Salute to the Policy Makers event, we will celebrate the professional accomplishments of 36 exceptional New Jersey executives," said EWNJ President-Elect and 2012 Salute Dinner Chair Keitha M. Lackey, who also serves as a Director for Horizon Blue Cross Blue Shield of New Jersey. "It is my honor and pleasure to serve as Chair for this year's gala, which serves a dual purpose: Honoring an outstanding group of women and benefiting an excellent cause."
Kathleen Waldron became the seventh president of William Paterson University in August 2010. One of the largest public universities in New Jersey with more than 11,000 undergraduate and graduate students, the University offers more than 250 programs and has extensive connections with universities in China, Scotland, Japan and Europe. Dr. Waldron has more than 15 years of experience in higher education and 17 years experience in international banking. She served as president of Baruch College of the City University of New York from 2004 to 2009 and as dean of the College of Business at Long Island University from 1998 to 2004 after beginning her academic career as an assistant professor of Latin American history at Bowdoin College. Prior to her transition to higher education administration, Dr. Waldron worked at Citibank for 14 years where she directed strategic planning for the Global Private Bank and served as president of Citibank International in Miami.
A member of the board of the Tinker Foundation, the Commerce and Industry Association of New Jersey, the Hamilton Partnership for Paterson, and NJEDge.Net, Dr. Waldron has served on the board of Accion International, a leading microfinance organization, and the Fulbright Association, among others. She has lived and traveled extensively in Latin America, speaks Spanish, and was a Social Science Research Council Fellow and a Fulbright Fellow in Venezuela. Dr. Waldron holds a doctorate and master's degree from Indiana University and a bachelor's degree from the State University of New York at Stony Brook.
Proceeds from the biennial event will fund EWNJ's scholarship program, which has provided more than $1.1 million in scholarships to more than 350 deserving New Jersey women enrolled in advanced degree programs at New Jersey institutions since instituting the program in 1986, as well as other programs that advance women.
For more information on corporate sponsorship or tickets to the Salute to the Policy Makers awards dinner, contact EWNJ at 609-249-7982 or visit EWNJ on the web at www.ewnj.org.
05/08/12