Mark Antonio Grant '77— Championing a World with More Birthdays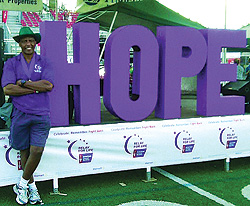 Mark Antonio Grant '77
By Theresa E. Ross '80
Mark Antonio Grant '77, an administrator for the City of Los Angeles, California, was sitting in his office on Friday, October 9, 2009, when his doctor called him with the news that he had colon cancer.
"I felt like a million ants entered my body—all carrying ice cubes with them, and shaking me uncontrollably," he says, recalling his reaction.
After having the weekend to reflect on the diagnosis, Grant gained a new perspective. "I just said I'm going to do everything I can to beat this thing, and it was at that point that I started moving forward," he says. The surgery was successful, resulting in the removal of a grapefruit-sized tumor and 40 percent of his colon. Six months of aggressive chemotherapy followed. Today he is happy to report that he is in remission.
Grant recently received the Hero for Hope Award from the American Cancer Society in California for 2011-12, and previously for 2010-11 in Oregon. He now travels the region and speaks passionately about cancer prevention at the American Cancer Society's Relay for Life rallies and gatherings.
"It (cancer) changed me," says Grant. As a Hero for Hope recipient, Grant is among ninety cancer survivors across the country selected for their "outstanding commitment to the fight against cancer." He now focuses on spreading the word about preventive health care—encouraging people to get their prostate exams, mammograms, colonoscopies, and regular check-ups. He takes every opportunity he can to make a public appearance and share his inspiring words, including speaking at his local Rotary Club meeting.
Grant was fifty-four at the time of his diagnosis. A self-described "picture of health" all his life, he had kept himself in shape with exercise and sports activities dating back to high school. In college, Grant was a communication major and volunteered at the campus radio station. He also played center/forward for the 1977 Pioneers champion basketball team. He still chuckles when he remembers the day he met Julio Lugo-Burgos on campus, a William Paterson student sculptor who convinced Grant to pose as the "body" for a twelve-foot statue of Mohammad Ali. Grant still has the Star-Ledger photo of himself posing with the artist and statue.
Strong support from family and friends, including several alumni he knew from the campus radio station, brightened Grant's recuperation period. "I got phone calls, emails, and messages on my Facebook page. A whole bunch of radio station alumni got together at Fuddruckers when I was finished with my chemo treatment, and they all toasted me and videotaped it. They said 'Here's to you, Mark,' and mailed it out to me."
This past year, Grant married one of his strongest supporters, Eileen, a woman he met at the gym. "She's my wife, my best friend, and we laugh together a lot. She saw me through this whole thing," he says.
Grant also credits his parents, both blind, for forging his indomitable spirit. His father, a veteran, was blinded in World War II. His mother was blind from glaucoma since her late teens. Despite it, says Grant, she did all the cooking, cleaning, and made the big holiday meals. They raised five children. Growing up in a household where there was adversity but it wasn't dwelled upon taught Grant a valuable life lesson. "I realize now that they were just doing what they had to do," he says.
Today Grant's weight is back and he is looking healthy again. He likes to wear his purple Relay for Life shirt because it says "survivor" on the back. People approach him and ask what it's all about, and Grant is happy to explain because it gives others hope. "To be able to give back what has been given to me is a good feeling," he says. WP
04/24/12