Dot Lischick '77 — Making a Building Come to Life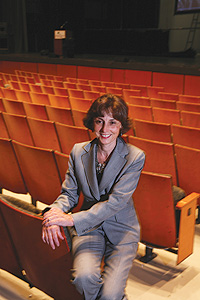 Dot Lischick '77
By Barbara E. Stoll '93, M.A. '94
Success in a male-dominated industry is often an uphill battle for a woman, but it's a challenge that Dot E. Lischick '77 welcomed with a determination that is uncommon. It propelled her to the top job at one of the largest sports and entertainment venues in Colorado, that of general manager of the complex that includes the Colorado Springs World Arena and Ice Hall, a U.S. Olympic training site for figure skating, and the Pikes Peak Center for Performing Arts.
Lischick has breathed life into the complex with sporting events, concerts, family shows, graduations, and civic events, among other programs, with skills she began to develop as a student at William Paterson.
"I was a resident assistant while I was at William Paterson," Lischick recalls. "I got involved with student activities, hanging up posters, selling tickets, working as an usher at Shea Center, and in the coffeehouse that was in the old Coach House. I did it because I lived on campus, and enjoyed meeting people."
A highlight of the time occurred in 1986 as the Statue of Liberty was rededicated and all the matching bands who were taking part in the ceremony were housed in the residence halls and practiced on the athletic fields.
"That was the biggest event in terms of revenue, but also in importance," she says. "Organizing the logistics, including rooms and meals for this event, was a challenge."
And challenge is something she relishes. "I thrive on a hectic schedule," Lischick says. "I like pressure, and the fact that no day is the same, because I have more energy when I am under pressure. In this business you are either all in it or all out of it." She comes by these traits naturally as one of a family of nine children. (Lischick, who is a middle child, shares a William Paterson connection with her older sister Charlotte Ambrose, M.Ed. '93, and their mother Christine Lischick '82.)
Working behind the scenes, on an average day Lischick negotiates contracts, schedules events, checks on ticket sales, and calculates expenses for the complex. Events scheduled this spring include Disney on Ice performances, a concert by violinist Itzhak Perlman, an appearances by comedian Daniel Tosh, and a season of hockey by the Colorado College team that plays and trains in the ice rink.
Nationally, only 33 percent of all facility managers are women, placing her squarely among the few women who are successful in the industry. She supervises thirty-four full-time employees, and 250 part-timers who are part of her team in the buildings she conceived from "blueprints to reality."
"I deal with a lot of personalities every day," Lischick says. "But I thrive on a lot of action, and get really calm during a crisis."
Nevertheless, she finds tremendous satisfaction in her work. "It's very rewarding to stand in the wings and watch an artist I've booked perform on stage. In this way, I am creating fond memories for the audience." WP
04/24/12