Kevin Lenahan '90 — Merging Healthcare for the Common Good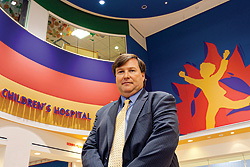 Kevin Lenahan '90
By Barbara E. Stoll '93, M.A. '94
In the sixteen years since he joined the Atlantic Health System (AHS), Kevin Lenahan '90 has made it his life's work to bring affordable healthcare to the communities the system serves.
"We spend a lot of time developing a healing culture in the system that enhances the patient's visit and the employee's work experience," he says. "We've developed an initiative called P.R.I.D.E., which stands for professionalism, respect, involvement, dignity, and excellence, and are working to try to improve on all those things."
Additionally, Lenahan, vice president of finance and chief financial officer, in charge of the system's finances, has worked to increase the system's bond rating, an indicator of its financial stability. Currently, the system enjoys the premiere bond rating in the state, an A from Standard and Poor's, and an A1 from Moody's.
The system was also recently named one of Fortune magazine's "100 Best Companies to Work For" for the fourth year in a row. The designation supports the system's initiative to create a better work environment for the approximately eleven thousand employees who work in the system's four hospitals: Morristown Medical Center, Overlook Medical Center, Newton Medical Center, and the Goryeb Children's Hospital.
"Everyone is an equally important part of the puzzle," he states. "We have a passion to be the best, to treat everyone as a family member, to not rest on our laurels and to constantly improve."
Lenahan has earned his success. He attributes at leastsome of it to his schooling at William Paterson. "I received a great education at William Paterson," he says. "I had a strong background in finance, auditing, and accounting, but I was also exposed to other disciplines including theater, art, and history."
He adds that these non-business courses help him in his work today.
"A lot of times, when I'm dealing with physicians, it's about building relationships," he says. "It's having an idea of what they are referring to in different arenas that has been helpful. That was something that I didn't always appreciate when I was in school."
While he was still in school, he had an internship that also helped him.
"William Paterson opened doors for me by helping me get an internship at American Cyanamid," Lenahan says. "I worked there in my junior and senior year and learned a lot about finance. The only downside was that I had to wear a suit and tie to work each day. Since I went straight to work from my classes that meant I had to wear it all day. As a commuter student, I arrived at 8:00 a.m. to avoid the woes of parking on campus."
"I loved the atmosphere on campus, the teachers were approachable," he adds. "William Paterson was worth the investment, not only for me but my brother and cousin too."
After earning a degree in accounting from William Paterson, he was hired by Blue Cross and Blue
Shield of New Jersey to do Medicare audits. From there, he moved on to Coopers and Lybrand, a national accounting firm, working primarily with healthcare clients.
In 1996, just six years out of school and by now a certified public accountant (CPA), he was hired by the newly formed Atlantic Health System to consolidate the corporate merger between Mountainside Hospital and Overlook Hospital. "I was in charge of day-to-day finances," he reports. "And I centralized numerous departments to save costs.
Today, Lenahan is also president of Atlantic Health System Insurance, LTD, which provides health coverage for the system's employees. More than five hundred employees report directly to him. WP
04/24/12