David Shapiro — The Art of Collaboration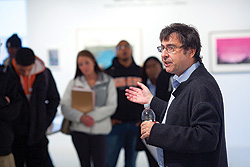 David Shapiro and students in his class Understanding Art get a first-hand lesson in the University Galleries
On a recent Thursday morning, David Shapiro, a University professor of art, gathers his students and leads them a short way down the hall in Ben Shahn Center for the Visual Arts to the University Galleries for today's lesson in his class, understanding art.
With the students gathered around him in the large, airy gallery space, Shapiro pauses in front of one of the prints in the juried exhibition, American Impressions 2012, on view there. "Proust said, 'You need to have new eyes,'" he says. "One way you learn is visually. You learn to feel the taste of an artist and his or her style. In this work, what I like are the details, which almost seem cartoonish. You can't see them if you look at it from far away. You need to come close to see them, or the texture of a painting or a collage."
Shapiro works his way around the gallery, posing questions to gallery assis- tant Emily Johnsen, to the students, and even to the photographer who is taking his picture for this article. As he speaks, he weaves in references to everything from music (Mozart and Beethoven), to literature (Proust and Goethe), philosophy (Aristotle), art (Jasper Johns, his favorite artist), and even baseball (a topic, he believes, that you can talk about with everyone).
For Shapiro, seeing the connections between various disciplines has been a hallmark of his distinguished career as a poet, art and literary critic and essayist, musician, artist, and educator. His interdisciplinary approach is grounded in his early exposure to art, music, and science, and was reinforced as an undergraduate at Columbia University, where he was mentored by the eminent art historian Meyer Schapiro, who used literature, psychology, and the sciences to teach art. "Meyer Schapiro showed me that you should bring to any piece of art that which would release its powers," he recalls.
According to Diana Peck, a professor of communication who has known Shapiro since childhood—and has commuted with him to campus for three decades—the breadth of his knowledge is singular. "David is a world-class intellectual in three disciplines: poetry, music, and art history," she says. "But what is truly extraordinary is his ability to cut across these disciplines and how they relate to each other. When I recommend his classes to my students, I tell them not to expect the linear. The excitement of his lectures is the way he makes unexpected connections in an original and deep way."
While it's more common today to employ an interdisciplinary approach, Shapiro has been teaching modern art this way for more than thirty years. One of his regular assignments for his students requires them to visit the Metropolitan Museum of Art and select an object of interest. "First, they must learn to talk and write about the object very precisely," he explains. "Then I will assign them to write a poem or a creative response to the object, and then to do a drawing of it." He will also show a film or play music to illuminate an artist; a classically trained violinist, he has often performed music from Bach to Bartok for his students.
"When I teach, it all gets put together —like an opera with so many different parts," he says. "To me, poetry and painting and architecture are one, and I try to demonstrate how they all come together."
Shapiro grew up in the Weequahic section of Newark, which was a well-known, largely Jewish neighborhood through the 1950s. His grandfather was the famous Jewish cantor Berele Chagy; his father, Irving, was a dermatologist, a sculptor, and a violist; and his mother, Fraida, was a teacher and singer. The third of four children, he began playing the violin at age two, and by age sixteen had played with the American Symphony and was seemingly headed for a career as a musician.
But he also loved writing poetry, and began submitting his poetry to literary journals. As a high school student, he was published in the Antioch Review, Art and Literature, and Beloit Poetry Journal; his first book of poetry, January, was published in 1965, when he was just eighteen.
Shapiro entered Columbia University in 1964 as a published poet. As a student at Columbia in the late 1960s, he joined the growing number of students protesting the Vietnam War. In 1968, he joined a group of protesters occupying the president's office at Columbia; his photo appeared in Life and Time magazines.
After receiving his B.A. in English, Shapiro attended Cambridge University as the recipient of Columbia's prestigious Kellet Fellowship. Two years later, he returned to Columbia to pursue his doctorate in English, which he received in 1973. Shapiro taught English and comparative literature at Columbia until 1981; he joined the William Paterson faculty in art history in 1984.
Today, he is the author of ten volumes of poetry (he is currently working on his eleventh), including A Man Holding an Acoustic Panel, which was nominated for a National Book Award in 1971. His other books include the first books written on pop artist Jim Dine and on Jasper Johns' drawings, and he has been translated into German, French, and Spanish.
His poetry has been described in many ways—lyrical, surrealistic, post- modern, and, by poet Frederick Smock, writing in the January/February 2012 issue of American Poetry Review about his collection, Lateness, as "a wonder."
"A lot of my poems are about science, politics, and of course, love," he says. "I do what I can do. The writing takes you on a trip, a journey—if you try to control it, you get in trouble. My poetry is often called difficult, but that's what all modern poetry is accused of since a poet like Rimbaud in 1871 started to tell about his fantastic inner journeys."
"Poetry is part of the culture and can change your life and change the culture," he continues. "We need it."
While writing poetry might be considered a solitary undertaking, that is hardly the case for Shapiro, who has shared his gift for words in numerous collaborations with composers, architects, and artists on a wide variety of projects.
"Collaboration was a big innovation for many poets in the 1960s and many who thought one of the insights of the Surrealists was not to work alone like a torpid romantic," he says "To me, it's so natural to collaborate. It is a way to explore newness."
Shapiro's explorations have taken him as far as Argentina, where with sculptor Raul Farco he created a series of stone books with lines of his poetry carved into onyx, marble, and quartz. And, last year, he was one of five poets and five composers who collaborated on The Sanctuary Project, a work commissioned by the New York City-based contemporary music ensemble Lunatics at Large. Shapiro was paired with Mohamed Fairouz, a young Anglo Arab composer, who wrote music based on three sonnets written by Shapiro more than three decades ago. The pieces were performed at Carnegie Hall.
"Mohamed would often call me in the middle of the night to ask me to recite the poems again, so he could hear them in my voice," Shapiro says. "Vowels and consonants are part of the musical element in poetry; the cognitive is only part of what a poem can become."
He is perhaps most proud of his long collaboration with the late architect John Hejduk, who served as dean of Cooper Union's school of architecture for many years. In 1991, a poem Shapiro had written about the Czechoslovak student Jan Palach, who set himself on fire in 1969 to protest the Soviet invasion, was engraved on a plaque as part of a memorial designed by Hejduk and mounted on the grounds of Prague Castle in the Czech Republic.
Throughout the years, he has mentored countless students (in fact, William Paterson English faculty members Brad Gooch and the late Rachel Wetzsteon were among his students at Columbia). Rosa Alcala '91 credits Shapiro with encouraging her to write poetry. "He recommended that I apply to Brown University for graduate school," she says. "I did it partly to appease him. It just seemed like I was shooting for something that was beyond me—this Ivy League school—and I was very fortunate to get in. I credit him for believing in me." Today, she is a published poet and a professor of poetry and translation at the University of Texas at El Paso.
Most recently, Shapiro has been indulging his love for the visual arts, creating collages by altering postcard images of artists, poets, artworks, or other famous figures from the worlds of music, art, and science.
"When my son Daniel was born—he's twenty-seven now—he started putting stickers on the butcher block table in our dining room, and I liked it better that way...it looked rococo," he explains. "Eventually I found I could start with a postcard of a poet or artist I love and change the image with stickers or a splash of encaustic."
"I know my collages are just fun," Shapiro continues. "I asked Jasper Johns if they would last forever and he said, 'Probably not, but who cares?' The best fate for them is to appear in my favorite artists' houses—and Jasper has seven of them."
Shapiro also says that working in collage has informed his poetry, including his current work. "I would never have written some of the poems I have without also being able to express myself this way," he says. "More and more, anything I do visually is the sister of what I do verbally."
Now sixty-five and admittedly nearing retirement, Shapiro has no plans to slow down when it comes to creating art. "Why do we have to be typecast? Why must we be one thing? We aren't anyway. We play multiple roles, and many times I'm shocked at the strange pathway I have carved out of what seemed a wilderness," he says. "I found writing, teaching, and look- ing my favorite lives. I just wish I could have a few years to write twenty more books, finish many manuscripts begun, resurrect my musical career, pursue philosophy. It is a life's task to find the ways you want to play an endless game of uncontrol- lable beauty." WP
04/24/12