Tapping Into William Paterson University's Entrepreneurial Spirit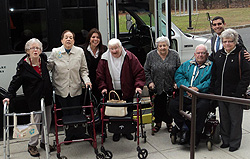 Thomas Cana (second from right) with his mother Danielle Cana (third from left), coordinator, Sunrise Assisted Living, and residents (left to right) Pat Freeze, Lorraine Guleki, Lorraine DaVis, Rita Tronolone, Les Cox, and Marga Conn
By Theresa E. Ross '80

When Thomas Cana, a junior business management major, presented his business idea before a panel of judges at William Paterson University's first-ever Business Concept Competition, he was cheered on by a group of senior citizens in the audience.
Cana, who has worked at Sunrise Assisted Living for three years, won first place for his idea "Beyond Bingo,"a senior day camp. Cana invited his mother and six of his biggest supporters, senior citizens who live at Sunrise, to come to the Valley Road Auditorium and watch his presentation. He never expected to win top prize.
The competition was launched as part of a growing effort to offer new entrepreneurship programs in the Cotsakos College of Business, which also offers an M.B.A. in entrepreneurship. William Paterson students were invited to "catch the entrepreneurial spirit" and submit their idea for a new product or service.
"Rather than calling for a business plan, which requires a more comprehensive accounting and finance knowledge, we opened it up to all students by calling it a business concept competition," says Sam Basu, dean of the Cotsakos College of Business. Although the majority of the applicants were business majors, students from other majors also applied. "Many of our students have great ideas and this contest encourages them to pursue their dream of entrepreneurship," he adds.
More than seventy-five applications were received from undergraduate and graduate students across the campus. The entries included a variety of start-ups, both profit and non-profit, including fashion, technology, healthcare, sustainability, and social entrepreneurship, to name a few. "We were surprised to get such a huge response from the students," says Robert Laud, associate professor of marketing and management, who organized the contest.
Eight finalists were selected by a panel of six faculty members with backgrounds in entrepreneurship. The competition was supported by Investors Bank, which financed the cash prizes. First place received $4,000, second place $2,000, and third place $1,000. The four judges included two banking professionals and two entrepreneurs.
The finalists included Cana, Kathleen Atlak, Sean Clark, Leyane Jerejian, Dorothy Kanuk, Brian Lomonico, Meghan Murray, and Kathryn Sisco. The eight students met with advisors and worked hard to put together their plans. They were given twenty minutes to present their ideas in front of the judges in the final round on November 17, 2011 in the auditorium at 1600 Valley Road.
Each finalist gave an outline of his or her business plan, including the market plan, product description, target customer, marketing and advertising plans, as well as cash flow and break-even points. Because the ideas were being judged on their potential for success, students looked for ways to present their ideas in persuasive and exciting ways. Many of them created PowerPoint presentations, videos, and product prototypes.
"Students also learned a lot about the selling process, including how to pitch their idea to potential investors, which will prepare them for the real world," says Laud.
Cana came up with Beyond Bingo, a non-residential facility for seniors, as an economical answer to the rising cost of assisted living facilities. "People are living longer and many of them, especially baby boomers, will not be able to afford assisted living," he says. Beyond Bingo keeps seniors active and offers unique amenities like beauty care, a cinema room, dining, a religious room, gardening, and a geriatric playground complete with a wheelchair swing set.
"Developing the concept was a major learning experience," says Cana. He worked with his advisor, Stephen Betts, professor of marketing and management, nearly every day for two months to prepare his presentation. Dean Basu helped him calculate potential profit, revenues and expenses, and break even conditions, and Vince Vicari, an adjunct professor, pitched in too. "They taught me about small businesses, and how to set up an advisory board, and to consider things like human resources and legal representation," he says.
Cana believes that winning first place also helped him garner a promotion at his job, from assistant director at Sunrise in West Essex, to director of activities at Sunrise in Morris Plains. An hour after he won, Cana drove back to his job with the oversized check and had a phone interview with corporate executives who were happy to learn about his award.
After graduation, Cana plans to stay in the field of senior care. "I have a knack for it and enjoy it," he says.
Kathryn Sisco, a junior business major, and Bahar Isteben, a senior communication major, won second place with their proposal for "Heavenly Hide-A-Way Ranch." A horse lover all her life, Sisco and her two sisters own four horses at their home in Vernon. She outlined a plan to make a trailriding stable profitable. "Most stables only offer English riding or Western riding. I would offer both," she says. Heavenly Hide-A-Way ranch would offer something for everyone, from sunset trail rides and pony rides for children to group events for clubs.
When calculating her business expenses, Sisco called up a stable that was going out of business and found out how much everything cost, right down to the electric bill. "My sisters and I are very interested in having a business like this," says Sisco. "Horse riding is just a great experience." WP
Brian Lomonico, a sophomore business major, won third place for developing a robot that will shovel your driveway. Tired of shoveling snow, Lomonico came up with a couple of different ideas before he hit upon the invention that would make his life easier. "All of the technology already exists," he says. His invention, called "Snobot," combines the features of a snow blower, a robotic vacuum cleaner, and a radio-controlled car. It would be able to shovel snow ranging from two to six inches, working in shifts throughout the day or night, he explains.
Lomonico spoke with engineers and designed a prototype image of a Snobot. His brother, an attorney, helped him search for similar patents. "Other people have attempted it, but they are a lot different than my design," says Lomonico.
In addition to the top three, ideas included a virtual online yearbook that stays continuously updated, a "Smart Life App" for your phone that acts as a 24/7 health coach, a "Smart Mug" that keeps hot drinks at a desired temperature, t-shirts with slogans that invite strangers to talk with you, and Helping Hands, a one-stop retail business that caters to children with special needs.
William Paterson students are already writing business plans as a part of several business courses, explains Laud, but this foundational work is largely limited to the classroom. "This competition provides them with additional support from faculty and outside advisors, and sets the stage for larger competitions," he says.
"Given the interest of the participants and the spectators, and the excitement of the entire competition, we hope to expand the event next year in spring 2013," says Laud. "We've already created a buzz with this competition."
04/23/12