At the Forefront of Science Education in New Jersey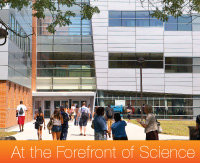 By Mary Beth Zeman

Tucked away in one wing of William Paterson's newly expanded and renovated Science Complex, biology professor David Gilley's lab is—literally—buzzing with activity. In a small inner room, he and his student researchers can huddle around specially designed glass-enclosed beehives that contain thousands of honeybees. The bees can freely access the outside through tubes inserted in the exterior wall.

This specialty lab is just one of the exciting features in the University's 232,000-square-foot facility, which was dedicated on March 1. The three-and-a-half-year, $85 million project reinforces the role the institution plays as a provider of science education in New Jersey and the United States.
"This vast complex, with its smart classrooms and sophisticated research laboratories, is a tangible example of our commitment to provide our faculty and students with state-of-the-art facilities designed to support our superior academic programs focused on the hard sciences, health sciences, computer science, psychology, and anthropology," said Kathleen Waldron, president, speaking before a standing-room-only crowd in the complex's central atrium. "It is also consistent with our University-wide focus on providing experiential learning opportunities for students to conduct research with their professors, who are noted experts in a variety of disciplines."

Designed to encourage an interactive learning environment, the complex features nearly one hundred research labs and fifty teaching labs, many of which can be configured in multiple ways to enhance faculty and student collaboration. A host of specialized spaces, from a microscopy suite with the latest digital instrumenta- tion to an innovative psychology clinical training suite, offer new opportunities for hands-on learning.
"I am gratified to see us move forward as an institution and ensure our leadership role in higher education in New Jersey by enhancing our campus with this tremendous facility," saidVincent Mazzola '73, chair of the University's Board of Trustees. "It is crucial to provide our students with the facilities and resources they need to achieve the excellent education provided by our outstanding faculty."
04/16/12