Cheng Library and Instruction and Research Technology Celebrate Enhancements Funded by Donation from Student Government Association
Student Government Association makes generous $67,300 donation to David and Lorraine Cheng Library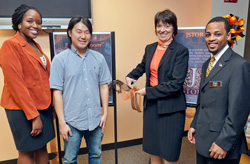 (From left) Naima Ricks '11, Eric Dryburgh '11, President Kathleen Waldron, and Harry Watson Jr. '12
Students and other members of the campus community have access to additional electronic journal resources, as well as two enhanced and refurbished areas in the David and Lorraine Cheng Library thanks to a generous $67,300 donation from the Student Government Association.
"We are proud that we have a Student Government Association that has chosen to give back to an academic activity," said President Kathleen Waldron during a ribbon-cutting ceremony to celebrate the gift on March 8. Speaking to the student leaders in the audience, including current SGA President Harry Watson Jr., and former SGA president Naima Ricks '11 and treasurer Eric Dryburgh '11 who were instrumental in selecting the Library for the gift, she added, "I would like to thank you on behalf of the University for being student leaders."
"This show of support from the SGA marks a high point in my forty-year career in library services," said Anne Ciliberti, dean of library services, during a ribbon-cutting ceremony on March 8 to celebrate gift. "To see these student leaders support the library and consider the needs of their fellow students is extremely gratifying."
The SGA donation provided the library with the resources to purchase subscriptions for 380 additional electronic journals from JSTOR, a searchable archive of notable electronic journals in subjects ranging across the arts, humanities, and social sciences.
It also provided funds to refurbish IRT's Preview Room in Media Services, which is outfitted with state-of-the-art equipment for listening and viewing. The rooms includes four boom-rocker chairs and two flat-screen televisions equipped with DVD/VHS players, CD players, and Blu-Ray players, as well as four new traditional viewing and listening carrels.
A second area in the Periodicals Department has been redesigned as an informal learning space called the Nexus, a news center with a flat-panel television, displays for current magazines, and a variety of furniture. The room features a number of walls murals specially designed by Angela DeLaura, a professor of art, and four of her graphic design students, Corrine Carr, Dyle MacGregor, Alexandra Overgaard, and Jenna Perrapato, including a "Tree of Knowledge" that traces the historical development of various communication and information technologies.
03/22/12