English Professor Contributes His Expertise and Memorabilia to Major New Exhibition at New York's Metropolitan Museum of Art
Edward Burns, professor of English, is one of the leading experts on Gertrude Stein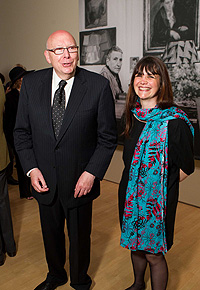 Edward Burns with Cecile Debray, conservator at the Center Pompidou, an exhibition director
Gertrude Stein, the grand dame of collecting modern art in the early part of the twentieth century, has long been a focus of research for Edward Burns, professor of English, to the point that he is considered one of the leading experts on Stein and her entourage.
As a result, Burns was the expert consulted by The Metropolitan Museum of Art more than three years ago when the exhibition, "The Steins Collect: Matisse, Picasso, and the Parisian Avant-Garde," featuring paintings in her collection, and those belonging to her brothers Leo and Michael, and Michael's wife Sarah, was organized by the museum, the San Francisco Museum of Modern Art, and the Reunion des Musees Nationaux-Grand Palais, Paris. He also wrote an essay about Gertrude Stein that is included in the exhibition's catalog and donated more than two hundred archival photos of the paintings in Gertrude Stein's apartment, some of which were printed in the catalog.
"I gradually gave the Metropolitan curator the photos, some dating back to 1903, that Stein took of her apartment that showed how the paintings were displayed which were sent to friends," Burns says. "Some of the photos are unique, some were taken by legendary photographer Man Ray, and many were used throughout the catalog."
Burns adds that the exhibit includes approximately two hundred artworks and many of the photos he donated are now in the Met's permanent collection.
Acting as an advisor to the exhibit was professionally fulfilling for Burns. "I enjoyed working with the curators in each of the institutions," he says. "I was impressed by the care they brought to their research and to their installations. I am proud to see that my work is well used."
The traveling exhibition opened in San Francisco where attendance exceeded expectations. In Paris there were long lines to get in, and the New York portion of the tour has been equally successful. The exhibit runs through June 3.
Burns joined the faculty in 1989. He has published widely on Gertrude Stein, Alice B. Toklas, James Joyce, and Thornton Wilder, among others. His work on the Steins was included in a three-part New Yorker article by Janet Malcolm.
On April 2, Burns has been invited to participate in the Metropolitan's Scholar's Day. "I will be part of a group of invited art historians and curators who will tour the exhibition when the museum is closed, and then participate in conversations and roundtables about the paintings and the cultural implications of the exhibition. I will also be talking on April 29 at the Sundays at the Met program about the exhibition," he says.
03/22/12