Nursing Student Receives New Grant from CIGNA to Pursue Doctor of Nursing Degree
Gustavo Gonzales, nurse practitioner, is the first student to be awarded new CIGNA Foundation-funded grant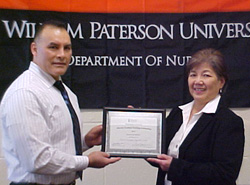 Gustavo Gonzales and Kem Louie
Gustavo Gonzales, a nurse practitioner, has been providing health care services to the Hispanic community of Dover for more than seven years. He is the first student to be awarded a new minority graduate teaching assistantship funded by the CIGNA Foundation. The grant will assist him financially in completing his doctoral degree in nursing (DNP) practice.
Gonzales is an active member of Sister Catherine Community Health Clinic in Dover and the Homeless Outreach Mobil Van Program.
"I came from an economically challenged area in Argentina and have seen firsthand the devastation that can be caused by lack of access to healthcare and wellness education. This has led me to devote my life to health promotion and management," he explains.
The grant from CIGNA allows a student from an underrepresented minority group help complete the DNP with the goal of pursuing an advanced, leadership position in the nursing profession at a time in history when there is a critical nursing shortage. The grant supports the tuition, fees, and a stipend for one year for a minority student currently enrolled in the University's doctor of nursing practice (DNP) program.
Gonzales, MSN, APN, NP-C, CCRN, holds a master's degree from the Universidad de Buenos Aires, Argentina, an associate degree in nursing from the County College of Morris, a bachelor's degree in nursing from the University of Delaware, and a master's degree in nursing from William Paterson University as an adult nurse practitioner.
"He is an excellent role model for nurses and nurse practitioners," says Dr. Kem Louie, associate professor of nursing and director of the graduate program who was Gonzales' teacher and mentor. "The combination of his aspiring goals to care for the underserved in his community, strength of character with pursuit of excellence, and commitment to nursing makes him a deserving candidate for this award."
03/22/12