Vote for WP's Environmental Sustainability Video as University Competes for National Award!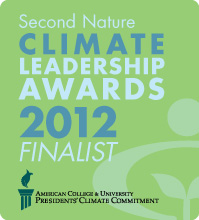 William Paterson University is the only college or university in New Jersey to be named a finalist in the 2012 Second Nature Climate Leadership Awards competition, which recognizes the most innovative climate leaders among colleges and universities across the country.

CLICK HERE to vote for our video!
You may view our video and vote by clicking on the link above. To vote, simply scroll down to the blue VOTE box, click on the "thumbs up" icon, and cast your vote for us!
Voting ends April 14 at midnight. Winning videos will be featured at Planet Forward's Moving the Planet Forward conference the week of April 16.
In May, the steering committee from the American College & University Presidents' Climate Commitment (ACUPCC), an agreement between nearly 700 colleges and universities to promote sustainability through teaching and action, will select the official 2012 Climate Leadership Award winners.
03/15/12