Third Annual Cross-Cultural Arts Festival at William Paterson University Focuses on Latin American and Caribbean Art and Culture in March and April
A three-week festival of performances, workshops, film, art exhibitions, lectures and panel discussions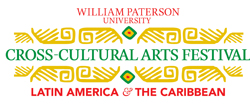 The third annual William Paterson University Cross-Cultural Arts Festival will celebrate the wide range of cultures among countries in Latin America and the Caribbean on campus in Wayne from March 26 to April 14. The three-week festival of performances, workshops, film, art exhibitions, lectures and panel discussions will include such featured performers as Eva Ayllón, Afro-Peruvian singer; Johnny Ventura, the father of modern merengue; and Paquito D'Rivera, saxophonist, with the William Paterson Latin Jazz Ensemble directed by Chico Mendoza.
"The Cross-Cultural Arts Festival–Latin America and the Caribbean" will highlight the University's mission to encourage diversity, community outreach, and multiculturalism. It also seeks to feature the impact of the fine arts, music and cinema in facilitating cross-cultural empathy and developing global connections. All events are open to the public. Admission to most events is free.
The festival was developed by the University's College of the Arts and Communication with assistance from the Havana Film Festival New York, Commerce and Industry Association of New Jersey (CIANJ), and the Tinker Foundation.
"The Third Annual Cross-Cultural Arts Festival celebrates the artistic and cultural heritage of Latin America and the Caribbean and its contribution in the United States and throughout the world," says Stephen Hahn, associate provost and interim dean of the College of the Arts and Communication. "It also encourages us to reflect on our experience of cultural, ethnic, national, and religious identities as they are performed, mediated, and expressed in the work of art and culture."
Highlights include a March 26 program and reception honoring the Latin American Studies Program at William Paterson with special guest Oscar Guardiola-Rivera, a Colombian philosopher, writer and cultural critic. The festival continues with highly anticipated musical performances by Eva Ayllón on Friday, March 30 at 8 p.m., Johnny Ventura on Saturday, March 31 at 8 p.m., and Paquito D'Rivera on Sunday, April 1 at 4 p.m. For tickets to these performances go to wplive.org or call the University's Shea Center Box Office at 973-720-2372.
Ayllón is an international phenomenon who has performed for sold-out audiences in her native Peru as well as North America for more than thirty years. The Afro-Peruvian singer emerged in the early 1970s to establish herself as the leading exponent of music from her culture. Ayllón has recorded more than twenty albums and received a double Latin Grammy nomination in 2003. Tickets for the concert are $50, orchestra and near loge, and $40, rear loge.
Ventura, known as the "father of modern merengue," has performed all over the world and received the highest honors from countries throughout the western hemisphere. His credits include 28 gold records, two platinum albums, a Latin Grammy in 2004 and a Grammy of Excellence in 2006. Ventura was named "Merengue Artist of the Century" by the Dominican Congress, and President Jimmy Carter made Ventura the first Dominican artist to be invited to a United States Presidential inauguration. Tickets are $75 orchestra; $60 near loge; $40 rear loge.
Paquito D'Rivera is as well known for his impressive classical compositions as he is for his virtuosic saxophone and clarinet artistry. He has won a host of Grammy Awards as the leader of his own band, and participated in projects that transcend his Latin and jazz roots, including collaboration with cellist Yo-Yo Ma. D'Rivera will join the William Paterson University Latin Jazz Ensemble directed by Chico Mendoza to perform his compositions. Tickets are $15; $12 for the William Paterson community and seniors; and $8 for non-William Paterson students; William Paterson students are admitted free with I.D. A "Sittin' In" Meet-the-Artist Session will take place prior to the performance in Shea 101. Admission is free to all Jazz Room ticketholders.
Interspersed throughout the festival are workshops including "¿Habla español? Spanish for Teachers" on March 20, "Women of Influence in New Jersey" on April 3 and "Integrating Caribbean and Latin American Studies, Literature, and Perspectives into the Curriculum" on April 4. Panel discussions, such as "Latinos in the U.S.A.: Challenges of a New Century," moderated by Guardiola-Rivera on March 27, and "Crossing North and South: Education Research Spanning the Americas," moderated by Hilary Wilder, associate professor of educational leadership and professional studies at William Paterson, on April 5, are designed to enhance cultural awareness. "Santeria," a panel discussion on March 27 will explore the role of spirituality in contemporary Latino, Latin American and Caribbean in conjunction with the visual art exhibition, "Con los santos no se juega/Don't Mess with the Saints."
The University's film studies program, in conjunction with the Havana Film Festival New York, will present a film festival that will include screenings of: "Horn of Plenty" on April 9, "Strawberry and Chocolate" on April 10, "Karla's Arrival" on April 11, "Entre Nos" on April 12 and "Cartas a Elena" on April 13.
The William Paterson University Orchestra, under the baton of Maestra Sandra Dackow, will perform dances from "Estancia" by Argentine composer Alberto Ginastera on April 4.
A children's event, "Rainbow is the Color that Unites the World: Experiencing Latin American Art," coordinated by Kristen Evangelista, director of the University Galleries at William Paterson, will be held on Wednesday, March 28. Guest artists for the event will include Triada Samaras, James Brown and Juan Robles. The program, suitable for elementary school students, will be held from 10 a.m. to 2 p.m.
For additional information about these events, visit www.wpunj.edu/coac.
02/28/12