Ravi Coltrane Quartet to Perform at William Paterson University on October 30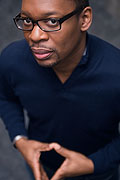 Ravi Coltrane
The Ravi Coltrane Quartet, led by the premier saxophonist, bandleader, composer, and producer of post-bop jazz, will perform at William Paterson University in Wayne, N.J. on Sunday, October 30. The concert, part of the University fall 2011 Jazz Room Series and Vistas Series, will begin at 4 p.m. in the Shea Center for Performing Arts on campus.
Coltrane has established his own identity as an influential contemporary saxophonist. The second son of John and Alice Coltrane, Ravi's first major touring experience came as a member of the band led by his father's drummer, the legendary Elvin Jones. Since then, he has released numerous CDs as a leader and composer. He has performed with such luminaries as McCoy Tyner, Pharoah Sanders, Carlos Santana, John McLaughlin, Joanne Brackeen, Geri Allen, and he succeeded the late Michael Brecker as a member of Saxophone Summit with Joe Lovano and David Liebman.
Prior to the concert, the artists will be the guests for "Sittin' In," an informal discussion about jazz, at 3 p.m. in room 101 of Shea Center. Admission is free to all Jazz Room ticketholders.
Tickets are available in advance or on the day of the performance at $15 standard; $12 for William Paterson faculty, staff, alumni and senior citizens; and $8 for non-William Paterson students. William Paterson students may attend free of charge.
Launched in 1978, The Jazz Room is one of the largest and most prestigious college-sponsored jazz events in the country. Performers include renowned professionals, who encompass the complete spectrum of jazz, from practitioners of traditional jazz to avant-garde to bebop to swing to Afro-Latin jazz, as well as William Paterson's own student ensembles. The series has won numerous grants from the National Endowment for the Arts and more than 25 years of continuous support from the New Jersey State Council on the Arts for its innovative programming.
Funding for The Jazz Room at William Paterson University has been made possible, in part, by the New Jersey State Council on the Arts/Department of State. This tour engagement of Ravi Coltrane Quartet is funded through the American Masterpieces program of Mid Atlantic Arts Foundation with support from the National Endowment for the Arts.
For tickets or information, call the Shea Center for Performing Arts Box Office at 973-720-2371 or visit the Web at www.wplive.org.
# # #
10/13/11