William Paterson University of New Jersey Honored as "Military Friendly School" for the Second Year in a Row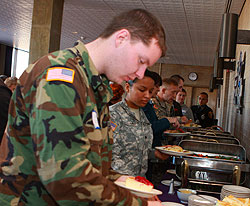 Veterans at the annual luncheon held in November
William Paterson University in Wayne, N.J. has been honored as a "military friendly school" by militaryfriendlyschools.com for the second year in a row. The University is included in their online listing as well as their 2012 Guide to Military Friendly Schools.
The University is Veterans Association approved, and offers several benefits and services to veterans, including tuition discounts, and allowing students to return to active service without penalty.
"Today's veterans have different challenges compared to those in the past, and we will do everything we can to ensure that they are supported both academically and personally," says John Martone, vice president for student development.
The University's Office of Veterans Affairs offers information, resources, and a support system for veterans and active military, and provides assistance with the unique challenges students face as they transition from military service to college life. The student veterans association, an active club on campus, also welcomes new members.
William Paterson has a long history of support for veterans, dating back to post-World War II when veterans enrolled under the G.I. Bill of Rights.
For more information about the University's Office of Veterans Affairs, contact Sgt. Lynette Butler at 973-720-2323 or butlerl@wpunj.edu.
09/20/11