Photographs from University's Summer Art in China Program on View at Power Art Gallery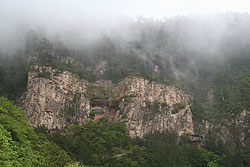 Photo by Zhiyuan Cong
Photographs by the University's students and faculty who participated in William Paterson's 2011 Summer Art in China program are on view through September 30 in the Power Art Gallery on campus. The exhibition's closing reception will be held from 4 to 6 p.m., September 29, 2011 in the gallery.
Twenty-four art students and faculty spent twenty-three days during May and June traveling throughout China viewing the country's ancient and contemporary art, experiencing its unique culture, bustling cities, and vast countryside.
Now in its tenth year, this program, directed by Zhiyuan Cong, professor of art, and director of the University's Center for Chinese Art (CCART), gives students an inside look at the culture, history and art of China. Cong has led previous trips in 2001, 2005 and 2008. The students met with artists, and visited art museums, institutes, and other cultural institutions. At the end of the trip, their observations and photos were bound into a book, Summer Art in China 2011. To view a copy of the book, please visit CCART in the Ben Shahn Center for Visual Arts, B-100.
For additional information, contact CCART at ccart@wpunj.edu.
09/13/11