Department of Nursing Welcomes First Doctor of Nursing Practice Students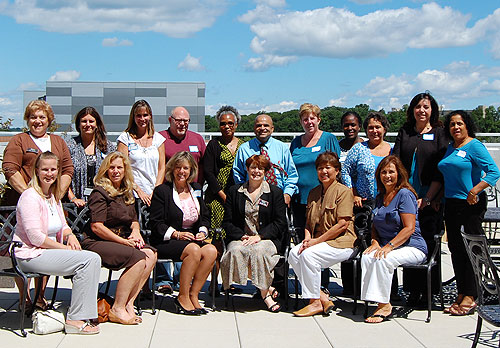 Pictured left to right: 1st row faculty: Dr. L. VanDyk, Dr. C. McSherry, Dr. B. Marshall (DNP Coordinator), Dr. J. Bliss (Dept.of Nursing Chair) , Dr. K. Louie (Director, Graduate Program in Nursing) 2nd row: N. Trelisky (Registrar), DNP students: Jill Guzman, Sharon Puchalski, John Masso, Harriet Coleman, Vivek Agnihotri, Maryann Baudo, Sandra Thebaud–Young, Toni Tortorella, Maria Brennan, Rachel Koshy. Not pictured are Gus Gonzales and Karen Magarelli.
The William Paterson University Department of Nursing Graduate Program welcomed the first doctor of nursing practice (DNP) degree cohort of students at an orientation event held on August 22, 2011 in the University Commons.
The University established its first doctoral degree program, the doctor of nursing practice, to provide the advanced practice nurse with preparation for leadership roles in health care.
The doctor of nursing practice degree is the highest-level clinical degree in nursing. It will give nurses who already hold master's degrees additional education in leadership in nursing practice and health care organizations, and prepare them to be scholars recognized for outstanding patient care outcomes.
The doctor of nursing practice is the highest-level clinical degree in nursing as recognized by the American Association of Colleges of Nursing (AACN). The degree program has been authorized by the New Jersey Presidents' Council and the New Jersey Commission on Higher Education.
09/07/11