William Paterson University to Sponsor Printmaking Exhibition From November 17 to 30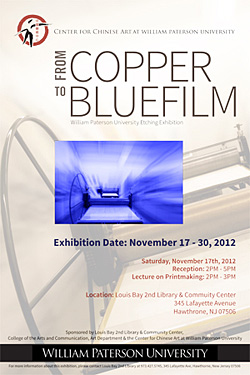 An exhibit that showcases traditional as well as new printmaking techniques used as part of the printmaking program at William Paterson University will be held from November 17 to 30 at the Louis Bay 2nd Library and Community Center in Hawthorne.
"From Copper to Bluefilm, William Paterson University Etching Exhibition," highlights the artwork crafted by students in the printmaking program using either the traditional copper etching technique or blue film etching, a newer, safer, and more convenient method of etching, currently the focus of the program. More than 30 pieces of student art will be on display.
"The printmaking program at William Paterson University is one of the best-equipped and most innovative programs of its kind in New Jersey," says Zhiyuan Cong, professor of art and director the University's Center for Chinese Art. "Our program aims to teach traditional printmaking techniques, such as copper etching, as well as to develop the new media such as blue film etching with our students. We want to educate students in the excellent culture and knowledge of traditional printmaking, but we also strive to develop new courses to update our curriculum and keep up with modern trends and techniques."
Cong will host an opening reception on November 17 from 2 to 5 p.m. at the Louis Bay 2nd Library & Community Center, located at 345 Lafayette Avenue, Hawthorne. From 2 to 3 p.m. Cong will give an introduction and a brief lecture on printmaking and the exhibition.
For additional information, contact the Louis Bay 2nd Library at 973-427-5745, or contact the Center for Chinese Art at William Paterson University at 973-720-2799.
11/14/12