Saxophonist Joe Lovano to Perform with William Paterson Jazz Orchestra on Jazz Room Series at William Paterson University on Sunday, May 5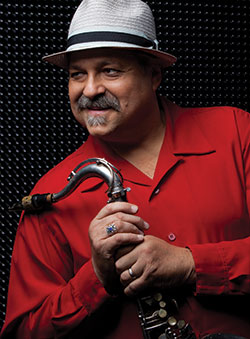 Joe Lovano
Saxophone giant and composer Joe Lovano will perform with the William Paterson University Jazz Orchestra in the final concert of the spring 2013 Jazz Room Series at William Paterson University in Wayne on Sunday, May 5, 2013, at 8 p.m. in the Shea Center for Performing Arts on campus. His performance will mark the culmination of the 35th anniversary season of the acclaimed concert series.
Prior to the concert, Lovano will be the guest for "Sittin' In," an informal discussion about jazz, at 7 p.m. at Shea Center. Admission is free to all Jazz Room ticket holders. Tickets are available at the Shea Center Box Office in advance at 973.720.2371 or wp-presents.org or on the day of the performance at $15 general; $12 senior citizens, William Paterson faculty, staff and alumni; and $8 for non-William Paterson students. William Paterson students may attend free of charge with valid ID.
Lovano is a former longtime William Paterson jazz adjunct faculty member and former Thad Jones/Mel Lewis band member. He returns to the Jazz Room stage with a concert that features arrangements of his original compositions by Kenny Werner, as well as three compositions from the Thad Jones/Mel Lewis repertoire that originally featured him.
One of the world's premier saxophone players, Lovano has performed and recorded with an array of jazz luminaries, including Woody Herman, Paul Motian, John Scofield, Herbie Hancock, Elvin Jones, Charlie Haden, Dave Brubeck, Billy Higgins, Dave Holland, McCoy Tyner, and Bob Brookmeyer, among numerous others. He regularly performs with his own ensembles, including the Joe Lovano Nonet, at top venues and festivals throughout the United States and abroad. He recently released his 23rd recording for Blue Note, Cross Culture, the third consecutive release by his critically acclaimed quintet, Us Five.
Launched in 1978, the Jazz Room is one of the largest and most prestigious college-sponsored jazz events in the country. Performers include renowned professionals who encompass the complete spectrum of jazz, as well as William Paterson's own student ensembles. The series has won numerous grants from the New Jersey State Council on the Arts for its innovative programming.

# # #
04/25/13