Campus Groups Unite to Raise Money for Suicide Prevention
More than 200 members of the campus community joined together to raise funds and awareness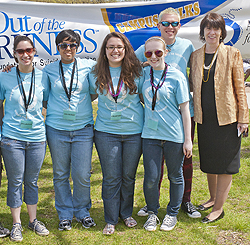 Joining President Kathleen Waldron (right) in supporting the cause of suicide prevention are (from left) Marissa Bockhorn, Nadia Abarca, Jamie Zotyria, Nicole Stone, and Andrew Maticka
More than two hundred William Paterson community members joined together on campus on May 1 to raise money and awareness for suicide prevention during the University's first Campus Walk for Suicide Prevention.
Held in collaboration with the American Foundation for Suicide Prevention, the event was the first in New Jersey held on a college campus. Participants raised more than $7,000; a portion of the proceeds will return to the University to support future programs on suicide prevention and depression.
Initial discussions among students, faculty, and staff about such an event began last fall in response to the suicide of Rutgers freshman Tyler Clementi. "The students' desire to take action went further as they learned about campus walks and were motivated to raise awareness on their own campus about suicide," says Francisco Diaz, assistant vice president for campus life.
Numerous student groups and University departments participated in the event including Campus Activities and Student Leadership, Counseling Health and Wellness Center/Peer Health Advocates, CHOSEN: Gay Straight Alliance, Student Activities Programming Board, Student Government Association, Residence Life, and the Women's Center.
Plans are already underway to continue educational efforts, as well as support another walk next year.
05/25/11