William Paterson University Signs Memorandum of Understanding with University of Namibia in Africa
--Agreement establishes collaboration between William Paterson's College of Education and Namibia's Faculty of Education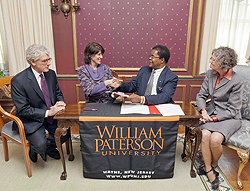 Signing the agreement are (l.to r.) Edward Wei, provost and senior vice president for academic affairs; President Kathleen Waldron; R.k. Auala, dean, University of Namibia; and Candace Burns, dean, College of Education
William Paterson University has signed a memorandum of understanding with the University of Namibia in Africa that establishes a relationship between the education faculties at the two universities.
The memorandum was signed by Kathleen Waldron, president of William Paterson University, and R.K. Auala, dean, faculty of education, University of Namibia, during a ceremony on the William Paterson campus. This is William Paterson's first such agreement with an African university.
Under the agreement, both universities will explore the potential for exchange trips and study visits for faculty members from both institutions for research, scholarship, and information, as well as study abroad opportunities for students. In addition, both faculties plan to engage in the virtual exchange of ideas and information through email, teleconferencing/videoconferencing, and other means of virtual collaboration.
William Paterson's connection with the University of Namibia began in 2010, when Hilary Wilder, associate professor of educational leadership and professional studies, spent a semester at the university as a Fulbright Scholar. While there, she also helped to develop a master's degree program in educational technology at the university, which is Namibia's only comprehensive four-year institution of higher education. Plans are already in the place for William Paterson graduate students in learning technologies to mentor undergraduate students at the University of Namibia via online technology.
# # #
05/25/11