Alumni Anthony Benevento '68, Rod Daniels '75, and Vivian Semeraro '60 Honored as Distinguished Alumni at Legacy Award Gala
Linda Bowden, M.A. '78, and Aaron Van Duyne III '75, M.M. '08, accept Legacy Awards for Community Service on behalf of their companies; Professor Tina Lesher receives Faculty Service Award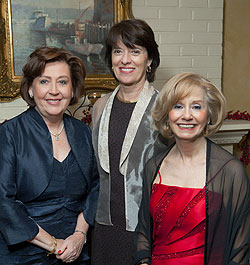 Left to right) Tina Lesher, President Kathleen Waldron, and Sandra S. Deller
Click here to view photos from Legacy Gala
The William Paterson University Foundation honored alumni, faculty, and friends of the University during its twenty-first annual Legacy Award Gala on Friday, April 8, 2011 at The Villa at Mountain Lakes. The gala is the Foundation's premiere annual event to raise funds for student scholarships. More than $130,000 was raised for scholarships at this year's gala.
"Support for the Legacy Dinner demonstrates our commitment to raising funds that enable our students to succeed," says Kathleen Waldron, University president. "Helping to provide support for these students is very personal for me. I too am a graduate from a public university, and the scholarships I received made my education possible. I understand the importance of scholarship support as an educator, and as a recipient."
The Legacy Award for Distinguished Alumni was presented to Anthony Benevento '68 of Wyckoff, partner, Fontanella, Benevento, Galluccio, Smith; Rod Daniels '75 of the greater Baltimore area, news anchor, WBAL-TV in Baltimore; and Vivian Semeraro '60 of Clifton, a retired elementary and middle school teacher.

Tina Lesher of Westfield, professor of communication, received the Legacy Award for Distinguished Faculty Service Award, given to faculty members nominated by William Paterson alumni in recognition of demonstrated career achievement and commitment to the University.
Linda Bowden, M.A. '78, northern New Jersey regional president, PNC Bank, accepted the Legacy Award for Community Leadership on behalf of PNC Financial Services Group, headquartered in Woodland Park, New Jersey and Pittsburgh, Pennsylvania. Aaron Van Duyne III '75, M.M. '08, accepted the Legacy Award for Community Leadership on behalf of Van Duyne, Behrens & Co., P.A., located in Pine Brook and Red Bank.
"Our annual Legacy Award Gala provides us with a wonderful opportunity to honor the accomplishments of our dedicated alumni, faculty and friends of the institution," says Sandra S. Deller, vice president for institutional advancement and president of the William Paterson University Foundation. "It also generates critical support for scholarships and other major University initiatives that promote student success."
04/15/11