University's Third Annual "College Radio Day" on Tuesday, October 1, 2013 Attracts Participants from More Than 700 Radio Stations in 43 Countries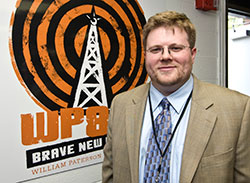 Rob Quicke
William Paterson University's campus radio station, WP 88.7 FM Brave New Radio, will hold its third annual College Radio Day on Tuesday, October 1, 2013, attracting participants from more than 700 college and high school radio stations in 43 countries.
Student radio stations in Italy, Israel, New Zealand, Hong Kong, India, Mexico, Colombia, United Kingdom, Sweden and more will be taking part in what is internationally known as "World College Radio Day." Each of the participating stations will "pass the microphone" at the end of their respective hour, broadcasting live and streaming online across the globe for 24 hours.

William Paterson will begin hosting its 40-hour broadcast at 12:01 a.m. on October 1 to span global time differences. Artists like Lucius, Coldplay, Patrick Stump (Fall Out Boy) and The Lumineers have prerecorded audio messages and interviews to lend their support first-hand to College Radio Day.
College Radio Day was developed and initiated by Rob Quicke, associate professor of communication and general manager of the University's award-winning station, WP 88.7 FM. In 2012 and 2013, William Paterson's station was named "Best College Radio Station in the Nation" by the International Broadcasting System (IBS).
"It's remarkable how College Radio Day has grown into a global event," says Quicke. "There has been a tremendous outpouring of enthusiasm and creativity produced by students worldwide to support this creative medium."
In addition to the broadcasting event, a second College Radio Day album will be released on November 12, 2013 to raise funds for cash-strapped college radio stations. Artists who have donated unreleased tracks include Wilco, Passenger, Charlie Peacock, The Front Bottoms, Jukebox The Ghost, The Soft Pack, and many more.
Quicke hopes that College Radio Day will help counter the recent trend of colleges and universities selling their radio station licenses, often valued in the millions. The aim of College Radio Day is to convince people to tune in to their local area college radio stations, support this unique programming, and underscore the importance and power of college radio to the Universities and Colleges they represent globally.
For more information about College Radio Day, visit the website collegeradioday.com.
09/27/13