Engaging in a Pioneer Life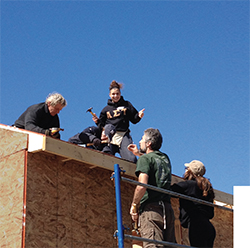 Joleen Kavaliauskas (center) works on the Habitat for Humanity trip to Virginia this past spring
By Mary Beth Zeman
Pilot service learning initiative seeks to expand student involvement in leadership and service

When senior Joleen Kavaliauskas joined the University's annual alternative spring break trip to Virginia to work on a Habitat for Humanity project, she had an opportunity to learn about the issue of rural poverty first-hand.
"It was such a great experience," she says. "We were able to reflect on what we witnessed in person and to try and understand and process what we learned. I think it's important for people my age to look outside themselves at what's going on in the world and to be of service to those in need."
Kavaliauskas is just one of the twenty-five to fifty students the University hopes will participate this academic year in a new pilot program designed to enhance their involvement in leadership and service learning.
The program, launched this fall by the University's Office of Campus Activities and Student Leadership, offers students the opportunity to earn a William Paterson University Leaders in Service badge by participating in a designated curriculum that includes leadership training, a leadership project on campus, participation in a campus-led service learning project, and attendance at a number of campus events focused on social justice activism or issues awareness.
"Leadership and service are two key components for students who desire to effect positive change in the world around them," says Jeff Wakemen, director of campus activities and student leadership, who is running the pilot project. "We are choosing to challenge students to not only improve their leadership skills through theory and practice, but also to step outside the campus community by learning about themselves and the world around them by becoming civically engaged through activism and service learning."
Why a focus on leadership and service learning? According to a 2012 report from the National Task Force on Civic Learning and Democratic Engagement, civic knowledge and action is on the decline in the United States. The report, A Crucible Moment: College Learning and Democracy, calls on higher education to embrace civic learning and democratic engagement and make those an educational priority. It further urges that "all stakeholders in America's future join together to become civic agents of a new promissory note at this crucible moment: to use higher education and the pathways to it as the carrier of democratic values, ideals, and processes."
The University has already made a significant commitment to the value of civic engagement and service learning. "As of fall 2011, as part of the University's Core Curriculum, all students are now required to take a 3-credit course in civic engagement as a requirement for graduation," says President Kathleen Waldron. "We are proud to be the only institution among the state's colleges and universities with such a mandate," she adds, noting that the course can be from any discipline as long as it meets certain criteria.
Citizenship is also one of the five core values affirmed through the University's Strategic Plan 2012-22. "Our core values define what we believe in; our fundamental beliefs and how we will live and breathe those values," Waldron said in discussing the plan in the fall 2012 issue of WP. "We challenge our students to be personally responsible citizens."
Student development professionals are also critical campus partners in teaching students the value of civic learning and democratic engagement. "Our goal is to support the mission of the University and provide students with co-curricular opportunities that are integrated with their academic experience," says Glen Sherman, associate vice president and dean of students.
The new pilot program is an outgrowth of a larger initiative called Pioneer Life. Fueled by new scanning technology that allows the tracking of attendance at events, students can now sign up on the Pioneer Life portal on the University's website and keep track of all their extracurricular activities, including the requirements for the Leaders in Service badge.
"This system allows each student to develop an engagement portfolio, a cumulative record of all the clubs, activities, and events he or she has been involved in on campus," Wakemen explains. For example, the system will track positions or involvement in clubs and organizations, attendance at events, and community service hours. "It is a way for students to tell the story of what they did outside the classroom, which can be especially valuable when building a resume, cover letter, or preparing for a job interview." During the 2012-13 academic year, more than 2,500 students were tracking their activity through the system.
While keeping track of that involvement is important, Wakemen says, even more critical is the concept of service learning, for which he is an enthusiastic advocate. "Service learning goes beyond just participating in a volunteer activity," he says. "In addition to that service, it requires learning outcomes, and an opportunity to reflect on the service." For example, the students who participated in the alternative spring break trip to Virginia for Habitat for Humanity also kept journals where they reflected on their experience and what they had learned, whether something concrete like how to use a hammer, or something more conceptual, like the issue of poverty in a rural area.
Wakemen says that students who participate in the Leaders in Service program will be exposed to a variety of leadership models and will be able to practice their skills with their peers while learning about concepts such as ethics, community building, motivating others, civil discourse, and collaboration and teamwork, among others. Those who finish the program by May 2014 will receive a digital "badge" similar to online goals that are popular on social media sites such as foursquare, Mozilla, and MacFound.

Students like Kavaliauskas are excited about the possibilities. A sociology, English, and secondary education major, she has been active on campus as a member of Alpha Sigma Tau sorority, the Sociology Club, and CHOSEN. This year, she has stepped up to co-chair the University's annual LGBQTA History Week, and recently participated in the Pioneer Leadership Institute, a program that offers leadership training for students involved in planning campus activities. She believes the Leaders in Service program will be helpful for her as she is interested in pursuing work with the LGBQTA community after graduation.
"My involvement on campus gives me an opportunity to grow as an individual and to enhance my skills by organizing programs and working with other students and administrators," she says. "This program will allow me to demonstrate my involvement, and show how I've put the theory I learn in my classes into practice."
Wakemen is looking forward to the program's success, and to developing additional badges focused on other areas of the University that would allow students to demonstrate their engagement and acquisition of skills outside the classroom. "Those of us in student development are truly dedicated to helping our students grow and develop outside the classroom, and to fostering the learning they do in those settings," Wakemen says. "I'm excited to see where this project leads."
11/22/13