William Paterson University to Host Palestinian Youth Cultural Tour in June
--Palestine Strings of the Edward Said National Conservatory of Music and the Danadeesh Dance Group to Perform in Shea Center on campus on June 30, 2011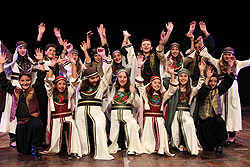 Young Palestinian musicians and dancers will celebrate their cultural heritage in a performance at William Paterson University in Wayne on Thursday, June 30, 2011 at 7 p.m. in Shea Center on campus.
The event is the culmination of a six-city Palestinian Youth Cultural Tour that also features performances in Houston; Detroit; Washington, DC; Jacksonville, FL; and San Francisco. The tour is sponsored by the Muna and Basem Hishmeh Foundation.
The Palestine Strings of the Edward Said National Conservatory of Music will perform both classical and folkloric music. A string orchestra formed in 2009, the ensemble features 16 violinists between the ages of 13 and 17, and is one of the conservatory's numerous world-class student and professional musical groups. The Danadeesh Dance Group presents modern and folkloric dance routines inspired by Palestinian cultural heritage. The troupe is sponsored by Sareyyet Ramallah-First Ramallah Group, a nongovernmental community-based organization established in 1930 as one of the first scout organizations in Palestine. Its programs, which focus on the development of children, youth and adults' skills in the scouts, sports, arts, and culture, include a dance school formed in 2006.
Tickets are $100, $50, and $25 for students. For information, call the Shea Center Box Office at 973-720-2371.
01/13/11