Regina Bonanno' 80: Taking on the Biggest U.S. Scientific Project of The Last Half Century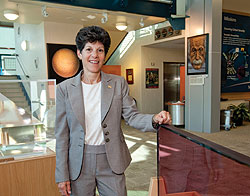 By Terry E. Ross '80
Regina Bonanno '80 has always been excited by big projects. At age five she loved building things with an Erector set, her all-time favorite Christmas present. As a laser physicist, she is one of several top scientists and engineers working on the project of constructing and completing the operation of the world's largest and highest-energy laser system.
Bonanno is the program director for photon science and applications, and part of the management team for the National Ignition Facility (NIF), the world's largest laser, at Lawrence Livermore National Laboratory (LLNL) in California. Funded by the U.S. Department of Energy as part of its Stockpile Stewardship Program, NIF is a critical component of the country's national security mission.
Scientists predict that we are on the brink of using the laser process to generate fusion ignition—blazing the path to a safe, virtually unlimited, carbon-free energy future.
"When fusion ignition has been demonstrated here (at NIF), it will be an achievement on par with landing on the moon," says Bonanno. "Scientists have thought about this for fifty years, and we're very close to having accomplished it."
The NIF facility's giant lasers are housed in a building the size of three football fields. NIF focuses the intense energy of 192 giant laser beams on a tiny target the size of a BB-gun pellet filled with hydrogen, creating conditions similar to those that exist only in stars, in the cores of giant planets, and inside a detonating nuclear weapon. Under these conditions, the hydrogen atoms can fuse, and if the pellet can be made to "ignite," much of its mass will be converted to energy, according to Einstein's famous equation, E=mc2. According to Bonanno, this laser-based technology for converting mass to energy could be the basis for producing clean energy.
Bonanno joined LLNL in 1986 and has held several senior management positions throughout her career. In her early days, she was working on small research and development teams. Over the years, she took on greater management responsibilities and spent the past decade leading key parts of the huge NIF project. Now, in a new role, as program director for photon science and applications, she explains, she is managing a number of smaller R&D teams that are working on cutting-edge technologies that could have a huge impact on future LLNL missions.
"Most days it's very exciting and challenging," she adds. "I manage a group of about ninety people, many of them laser scientists, and quite a few technicians and engineers as well who are working on advanced laser technology development projects." Some of these will get deployed on the NIF, and some are for other applications in support of homeland security, national defense, and stockpile science.
Bonanno now enjoys working with people who are younger in their careers, and having the opportunity to mentor them. "I was fortunate enough to have a number of mentors throughout my career, and they made a real impact on what I've been able to accomplish. Now it's come full circle," she says.
While growing up in Parsippany, much of Bonanno's inspiration came from her dad, a chemist who co-founded a small chemical engineering firm. "He had an infinite curiosity of how things worked, and how to make things work better. And he let me help him with whatever he was doing," she adds.
Bonanno came to William Paterson to major in chemistry. It was the perfect place for her at the time, compared to the experience of other students who went to larger universities. "It was good for me to be in a smaller program where I got a lot of one-on-one attention from my professors," she notes, recalling how chemistry professors Louis Rivela and Gary Gerardi helped mentor her studies in chemistry.
She earned her doctorate in physical chemistry from the University of Maryland in 1984. After receiving her degree, she spent two years as a National Research Council Postdoctoral Research associate at the National Institute of Standards and Technology, where she worked on the development of ultrasensitive techniques using lasers.
In 2004 she received the Distinguished Alumni Award from William Paterson University, and was inducted into the Alameda County Women's Hall of Fame in the science category in 2009.
Aside from work, Bonanno likes to spend her free time doing yard and landscape projects, traveling, and attending her thirteen-year-old son's baseball or basketball games.
She looks forward to the day when the NIF facility will demonstrate a viable way to produce fusion energy. "It may be ten or twenty years away, but it's the next big thing. And to have been a part of it from the beginning is something that everyone who has worked on this project is very proud of."w
12/13/10