Yankees Superstar Bernie Williams Discusses Career, Performs with University Jazz Orchestra During Distinguished Lecturer Series
Williams talked baseball and music with author and veteran sportswriter Phil Pepe.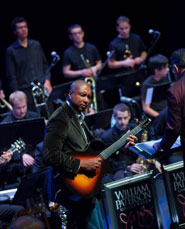 View slideshow of photos from event
Bernie Williams discussed his sixteen-year career as a Yankee superstar and showcased his virtuosity as a jazz guitarist during his appearance at the University on November 12 as part of the University's Distinguished Lecturer Series in front of a sold-out audience in Shea Center.
Williams talked baseball and music with author and veteran sportswriter Phil Pepe. He also performed six of his own contemporary jazz compositions (which were arranged by William Paterson graduate music students) with the William Paterson University Jazz Orchestra, composed of students in the University's Jazz Studies Program. He also answered questions from the audience before ending the evening with his own arrangement of the classic baseball tune Take Me Out to the Ballgame.
The William Paterson Jazz Orchestra, directed by David Demsey, professor of music, is one of the most respected student jazz ensembles in the nation, and regularly performs with well-known guest soloists as part of the Jazz Room Series.

Members include saxophonists Caleb Curtis, Nathan Giroux, Nicole Glover, Ben Kovacs, and Eric Neveloff; trumpeters Zachary Gillespie, Kyle McGinty, Mark Pawlak, David Pomerantz, and Danny Reyes; trombonists Collin Banks, Andrea Gonnella, Peter Lin, and Anthony Meade; and rhythm section members Julia Brav, Britt Ciampa, Brian Messenger, and Adrian Moring.

The arrangements of Williams's compositions were written especially for the performance by students in the University's master's degree program in jazz, including Shannon Baker, Greg Chako, Chris Connolly, Allen Farnham, Jacob Nevill, and Erica Seguine.
11/17/10