William Paterson University Dedicates Installation of Largest Solar Energy Facility on a University Campus in U.S.
—Solar panels expected to save University $4.3 million in energy costs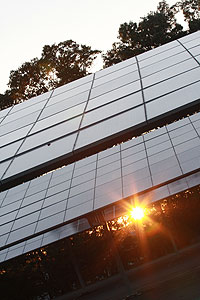 William Paterson University has dedicated a solar energy installation on its campus in Wayne that is the largest solar facility at a university in the nation. It is expected to save millions of dollars in energy costs for the University while supplying 15 to 20 percent of the institution's energy needs.
"This is a proud and historic moment for William Paterson University," says Kathleen Waldron, president of William Paterson University. "The solar facility is a dramatic and visible sign of this institution's commitment to the environment, and to clean energy in particular, while at the same time lowering our energy costs significantly."
"This project will enable us to save an estimated $4.3 million in energy costs over the next 15 years, while also reducing our carbon footprint," says Stephen Bolyai, vice president for administration and finance. "We are pleased to have formulated a public-private partnership to develop this project, with no capital costs to the University."
The installation will be capable of supplying 3.5 megawatts of clean, low-cost energy. The first 3-megawatt phase has been completed; a second 500-kilowatt phase is scheduled to go online in 2011.
The project was developed through a public-private partnership between the University; Nautilus Solar Energy, LLC, a leading independent solar power producer; and SunDurance Energy, a New Jersey-based solar power system integrator. Nautilus Solar financed, and will own and operate the facility under a 15-year power purchase agreement. The University will buy the solar power at a reduced rate with no upfront costs.
"One key concept that has led to the success of this project is the public and private partnership, without which this project would not have been completed," says James Rice, CEO of Nautilus Solar.
"The solar parking lot canopies that we designed and installed at William Paterson University offer a unique solution to limited ground and rooftop space," says Al Bucknam, CEO of SunDurance Energy, "We're proud to have delivered an efficient system that is going to save the university millions of dollars in energy costs."
SunDurance Energy designed and built the project, which includes arrays covering some parking areas and photovoltaic cells on the roofs of some of the University's buildings. Elevated solar arrays are located in Lot 1, Lot 6, a portion of Lot 5, the Power Art Center parking lot, and the extended parking lot at 1600 Valley Road. Solar panels are located on the Power Art Center, the upper roof of the Recreation Center, Wayne Hall, and the University Commons Ballroom.
To keep the campus informed about the University' s energy savings, a kiosk, to be located in the Science Building, will constantly display the amount of energy produced by the solar panels, and the concurrent savings accrued in real time.
William Paterson University has made a strong commitment to energy conservation. The institution recently received a $1.2 million federal grant to upgrade the controls for heating, ventilation, and air conditioning systems on campus. As of June 2007, the University is a charter signatory in the American College & University Presidents Climate Commitment (ACUPCC), a national initiative with a goal of carbon neutrality at member institutions. The University is also certified under the N.J. Department of Environmental Protection Environmental Stewardship program, became an EPA Waste Wise Partner, and was recognized by the New Jersey Higher Ed Partnership for sustainability with an Energy and Climate Action Award for meritorious achievement.
Other recent energy savings commitments at the University include replacing some gas-powered vehicles on campus with electric cars; recycling paper, plastic, and other materials; and installing occupancy sensors to control lights in buildings.
William Paterson University is one of the nine state colleges and universities in New Jersey. It offers more than 250 undergraduate and graduate degree programs through five colleges: Arts and Communication, Cotsakos College of Business, Education, Humanities and Social Sciences, and Science and Health. Located on 370 hilltop acres in Wayne, the University enrolls more than 11,200 students and provides housing for nearly 2,300 students.
10/21/10