Yankee Superstar Bernie Williams to Talk About His Career and Perform with Jazz Orchestra as Part of Distinguished Lecturer Series on November 12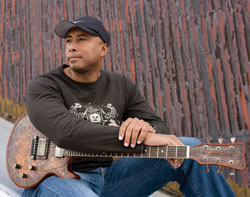 Bernie Williams will showcase his career as a Yankee superstar and his virtuosity as a jazz guitarist at William Paterson University's Distinguished Lecturer Series on Friday, November 12. "Bernie Williams: In Words and Music" will take place at 7 p.m. in the Shea Center for Performing Arts on the campus in Wayne, N.J.
Williams will talk baseball with author and veteran sportswriter Phil Pepe, perform with the William Paterson University Jazz Orchestra, and take questions from the audience. The program is produced in conjunction with the University's Jazz Room Series.
Individual tickets are $55 for orchestra and $45 for loge. Tickets may be purchased online at www.wpunj.edu/dls or from the Shea Center Box Office at 973-720-2371. Parking is free.
Special premium packages provide one orchestra seat and a pass to a private VIP reception where guests can mingle and be photographed with the speaker. A premium package is $125. A limited number of premium packages are available. To reserve a package, please call Mary Pospisil at 973-720-2934.
Williams, a revered baseball star, and now a critically acclaimed jazz guitarist, developed an interest in baseball and music as a young child growing up in Puerto Rico. He attended the Escuela Libre de Musica, a performing arts school, while becoming one of the best athletes on the island. Williams signed a contract with the Yankees at 17, and reached the pinnacle of the sport during his 16-year career. He was a four-time World Series champion, and was named All-Star five times, among numerous achievements. Williams has continued to pursue his passion in music and released his first album, the critically praised "The Journey Within" in 2003. In April 2010, Williams released a second popular album, "Moving Forward."
William Paterson's University's Distinguished Lecturer Series is presented through the generous support of the series' premier partner, Mercedes-Benz USA, in conjunction with media partner The Record. Program sponsors are Capital One Bank and the William Paterson University Alumni Association.
10/18/10