Beachgrass Research Has Significant Implications for Jersey Shore Dune Restoration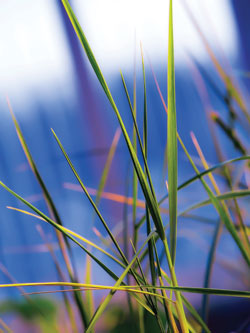 By Mary Beth Zeman
In the greenhouse adjacent to the University's Science Complex, willowy strands of Ammophila breviligulata, or American beachgrass, sprout from dozens of pots neatly lined up in rows. The long narrow leaves, some two or three feet tall, look fragile to the casual observer. But in reality, this plant is a critical component in stabilizing sand dunes up and down the East Coast.

When Hurricane Sandy blew through New Jersey last fall, the state's shoreline suffered unprecedented damage. The twelve-to-fourteen-foot storm surge, combined with pounding waves and hurricane force winds, caused significant beach and dune erosion. According to the Coastal Research Center in Port Republic, New Jersey, the state's coastal beaches lost an estimated thirty to forty feet, with some communities losing more than one hundred feet. Such beach erosion has a huge potential impact on the state's $30 billion tourism industry, much of which is centered on New Jersey's 127 miles of sandy beaches.

As the ongoing coastal damage assessments have been conducted, one fact has become clear: "Communities protected with natural or engineered dunes fared much better," says Michael Peek, an associate professor of biology. For example, he notes, the communities of Avalon and Stone Harbor replenished dunes a decade before the storm hit and, consequently, had less damage, while the engineered dunes of the Borough of Harvey Cedars provided protection for the community's homes. In contrast, towns without those dune systems, such as Holgate on Long Beach Island, or Point Pleasant Beach, Lavalette, and Seaside Heights further north, suffered extensive damage.

Peek has conducted research on the effects of beach grasses in shoreline erosion and revitalization since 2005 when he launched a research project todetermine the long-term performance of American beachgrass at Sandy Hook, a Gateway National Recreation Area in Monmouth County that is part of the National Park Service. "Beachgrass is a critical element in maintaining the dunes," Peek explains. "A fine network of roots stabilizes the sand, and can often reach ten feet deep. The leaves also serve to capture the sand. So the grass is an important factor in dune stability."

Now, as New Jersey begins the hard task of rebuilding along the shoreline, Peek's latest research, which looks at best practices for dune revegetation, takes on greater importance.

For the past three years, with funding from the New Jersey Sea Grant College Program, Peek has been assessing the performance of "Cape," the variety of American beachgrass used for dune revegetation along the East Coast, against local beachgrass ecotypes that are native to New Jersey.
"The 'Cape' variety of American beachgrass, which originates from Cape Cod, Massachusetts, has been propagated by the USDA Natural Resources Conservation Service since the 1970s and is the standard for restoration projects north of North Carolina, and has been planted in numerous projects in New Jersey," Peek explains.
Yet, its success in the state has been mixed over the years, including a restoration project in Atlantic City a number of years ago in which all the plantings died. "By using one variety, you assume that a single plant genotype will perform more successfully than a more genetically diverse population, and lead to healthy dune development," says Peek. "Yet, even within one dune, there can be a variety of micro-habitats, and my research is focused on whether diverse ecotypes of beachgrass that are native to New Jersey might be more successful."

To characterize native populations, Peek has collaborated with David Slaymaker, associate professor of biology and a specialist in molecular biology, who performed DNA analysis on established native beachgrass populations found at four sites: Sandy Hook, Island Beach State Park, Little Beach near Brigantine, and the Cape May National Wildlife Refuge.

Slaymaker extracted DNA and created genetic profiles for the different beachgrass populations. "We found a great deal of genetic diversity in the native beachgrass populations," says Slaymaker. However, restored beachgrass populations that were also tested showed little or no diversity. "By documenting these differences, we can find out how much diversity is naturally maintaining native dune systems."

After confirming the genetic diversity of the four native populations, plantings were cultivated in the greenhouse, a painstaking process requiring months of preparation and data collection from 150 individual plantings, says Nelson Araujo, a senior majoring in biology who has worked on the project for three semesters and is one of five student project assistants, along with Paige Appleton, John Picariello, Sarah Flaherty, and Frank Oliver.

Peek is currently analyzing data collected from a variety of experiments designed to test how the plants perform in the lab under stressful environmental conditions, such as sand burial and limited water availability. "The preliminary results show that the strains do grow differently from each other, and therefore may grow better in certain locations," he says. His next step is to test field plots of the different strains on a restored beach.

The ultimate goal, say Peek and Slaymaker, is to establish and preserve functioning dunes, and to determine whether natural New Jersey dune grass genotypes will increase the short-term success of the plants and the long-term stability of the coastline. The unfortunate events of Hurrican Sandy may be the impetus for changing restoration strategies that are a direct result of the findings of Peek and Slaymaker's research.WP
04/25/13