Mulgrew Miller, Bernie Williams and Victor Wooten Among Jazz Artists Featured in 33rd Season of William Paterson University's Jazz Room Series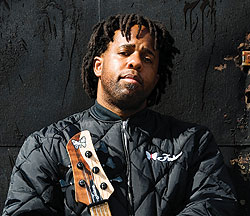 Victor Wooten
Mulgrew Miller, the internationally renowned jazz pianist and director of William Paterson University's Jazz Studies Program, opens the 33rd season of the University's Jazz Room Series this fall on the campus in Wayne. Also among the headliners will be Bernie Williams, the critically acclaimed jazz guitarist and former New York Yankees superstar, and Victor Wooten, Grammy award-winning bass player.
Miller, joined by trumpeter Terell Stafford, kicks off the series on October 10. The series continues with Victor Wooten and J.D. Blair on October 14, in a performance held in conjunction with the university's Vistas Series. The Warren Vaché Quartet performs on October 17, followed by Wayne Escoffery and Carolyn Leonhart on October 31 and the Connie Crothers Quartet on November 7. Bernie Williams, performing with the William Paterson Jazz Orchestra, concludes the fall series on November 12 with a special presentation, "In Words and Music," held in conjunction with the University's Distinguished Lecturer Series. All concerts are held in the University's Shea Center for Performing Arts.
On October 10, Miller and Stafford will provide an intimate duo performance. Miller's tenure on the William Paterson faculty is the latest step in a long career that has included recordings and tours with his Trio and his larger group, Wingspan, as well as associations with such legends as the Duke Ellington Orchestra, Tony Williams, Art Blakey's Jazz Messengers and Woody Shaw. Stafford brings decades of experience, including associations with Art Blakey and the Jazz Messengers, McCoy Tyner, Jimmy Heath, The Vanguard Jazz Orchestra and Jon Faddis, among others.
Composer and multi-instrumentalist Victor Wooten perform on October 14 alongside drummer and percussionist J.D. Blair in a program titled "2 Minds, 1 Groove." A five-time Grammy award winner and member of Bela Fleck and the Flecktones, Wooten has won almost every major award presented to a bass player, and is the only performer to be named "Bass Player of the Year" by Bass Player magazine three times in a row. Blair has toured, performed and recorded with Wooten in between his tours with country vocalist Shania Twain. He has also worked with Kirk Whalum, CeCe Winans and Heather Eatman.
The Warren Vaché Quartet takes the Shea stage on October 17. Trumpeter Vaché had a long association with Benny Goodman and spent years playing with Gerry Mulligan, Woody Herman, Rosemary Clooney, Hank Jones, Bobby Short and Benny Carter. He has performed all over the world, including Carnegie Hall, Royal Festival Hall in London, the Vienna Opera, Orchestra Hall in Chicago and the Music Center of Los Angeles. He also starred in one of the great music cult movies, "The Gig."
Wayne Escoffery and Carolyn Leonhart perform on October 31. Saxophonist Escoffery and vocalist Leonhart are a rare husband-wife combination. Escoffery has made a substantial impact including membership in the Mingus Big Band, Lonnie Plaxico Group and the Monk Legacy Septet. Leonhart grew up singing with her father, bassist Jay Leonhart, and has toured and recorded with the group Steely Dan and jazz vocalist Al Jarreau.
Pianist Connie Crothers, known for her wide range of expression and spontaneity, brings her quartet to William Paterson on November 7. Her unique approach to jazz has led to performances with saxophonist Warne Marsh, bassists Eddie Gomez and Henry Grimes, and her newly formed trio, TranceFormations, with Andrea Wolper and Ken Filiano. Her quartet, which consists of fellow musicians who have worked together for years, including Richard Tabnik on alto saxophone, Roger Mancuso on drums and Ken Filiano on bass, will highlight their unique brand of group interaction.
Jazz guitarist Bernie Williams will perform with the William Paterson University Jazz Orchestra on November 12. Classically trained as a guitarist in his native Puerto Rico, Williams signed a contract with the New York Yankees at 17, and reached the pinnacle of the sport during his 16-year career. He was a four-time World Series champion, and was named All-Star five times, among numerous achievements. Williams has continued to pursue his passion in music and released his first album, the critically praised "The Journey Within" in 2003. In April 2010, Williams released a second popular album, "Moving Forward." Williams and the 18-piece William Paterson Jazz Orchestra will perform new arrangements of music from his two CDs, as well as talk baseball with author and veteran New York sportswriter and jazz fan Phil Pepe.
Sunday afternoon concerts begin at 4 p.m. in the Shea Center for Performing Arts on campus. Concerts are preceded by "Sittin' In," informal jazz talks with the afternoon's artists, at 3 p.m. in Shea Center 101, which are free to all Jazz Room ticketholders. Sunday afternoon concerts begin with a performance by a William Paterson student jazz ensemble. Admission to Sunday afternoon concerts is $15 standard; $12 for senior citizens; and $8 for students.
Tickets for Victor Wooten and J.D. Blair: 2 Minds, 1 Groove, are $40 Gold Circle; $30 Orchestra amd $20 loge. The concert begins at 8 p.m. Tickets for Bernie Williams: In Words and Music are $55 orchestra and $45 loge. A special premium package that includes an orchestra seat and pass to a private VIP reception is $125. For information, call the Shea Center for Performing Arts Box Office at 973-720-2371.
Funding for The Jazz Room at William Paterson University has been made possible, in part, by the New Jersey State Council on the Arts/Department of State.
Launched in 1978, The Jazz Room is one of the largest and most prestigious college-sponsored jazz events in the country. Performers include renowned professionals, who encompass the complete spectrum of jazz, from practitioners of traditional jazz to avant-garde to bebop to swing to Afro-Latin jazz, as well as William Paterson's own student ensembles. The series has won numerous grants from the National Endowment for the Arts and this season marks the 28th consecutive year of funding from the New Jersey State Council on the Arts.
09/15/10