Pilot Program Acclimates Students to Campus
Pioneer Ventures gives new students an enhanced orientation experience as they join the campus community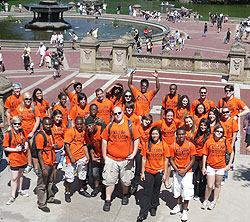 Students visiting Central Park, New York City
More than twenty-five new first-year students arrived on campus a few days early to participate in a pilot extended orientation program designed to ease the students transition to the University and enhance their first-year experience.
Titled Pioneer Ventures, the action-packed program, which was offered as an option to all incoming first-year students, was held the last weekend in August. The weekend began with a Friday night group activity—a trip to a laser tag facility. The highlight was a Saturday excursion to New York City, where the students took a movie tour of Central Park, visited the West 4th Street Festival in Greenwich Village, and then headed to the Fringe Festival, where they took in a performance of the play Abraham's Daughter. The students traveled into the city by New Jersey Transit bus, and navigated the subway system there. On Sunday, students spent the afternoon hiking on nearby High Mountain, where they took in the view of the New York City skyline from the summit.
"We wanted to offer students an opportunity to bond with other new freshman," says Francisco Diaz, assistant vice president of campus life, who developed the new program. "Also, we're very close to New York City, with all its many cultural resources, and students are sometimes not sure how to get there. So this was a very hands-on experience meant to give them the tools they would need to venture out again on their own from campus to the city just 20 miles away."
Students who participated in the program gave it glowing reviews. "It was pretty cool," says Andrew Shapiro of Woodbridge, who is majoring in communication. "Learning how to get to New York City was a really beneficial experience, and I met incredible new friends.
Vanessa Grafals, a new nursing major from Dover, says it was a great program. "One of the best parts was getting close to the people there. I still hang out with them. Since we were the only ones on campus, we were able to get close and bond." She feels she can conquer New York City on her own now. "I feel more comfortable, especially using the MetroCard and taking the bus from campus.
08/24/10