Counseling Health and Wellness Center Opens in New Location
New location offers Counseling, Health and Wellness Center more space to provide clinical, educational and outreach services to students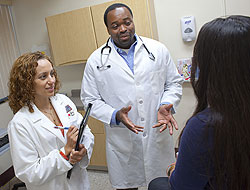 Carola Gremlich, RN with Avery Browne, DO
More space and a more convenient campus location are the hallmarks of the Counseling, Health and Wellness Center's newly renovated facility on the ground floor of Overlook South.
Occupying an entire floor of a wing of the residence hall, the Center is a state-of-the-art healthcare facility which includes four new exam rooms, and numerous offices where counselors and other medical professionals are available to meet with students.
Health services include clinical and sports physicals, care for illness and injury, immunizations, lab services, referrals for specialty or emergency care, HIV testing, and men and women's health services. Counseling services help students deal with such issues as managing academic stress, time management, issues with self-esteem and doubt, and depression. The Center is staffed with a physician, a nurse practitioner, several registered nurses and licensed psychologists, and licensed clinical social workers. All services accessed by students are confidential.
So far, the new location has been extremely well-received by students according to Eileen Lubeck, director of the Center. "We have received many unsolicited comments about the professional look and feel of the offices and exam rooms," she says. "Although the Center has been one unit for the past eight years, the individual programs have been housed separately. Now, we are excited to finally be together in one space. We believe students benefit from our holistic approach to wellness and we are now better able to provide them with high-quality medical and mental health services under one roof."
08/24/10