Bookstore Now Offers Students Textbook Rentals
New program allows students to save money by renting books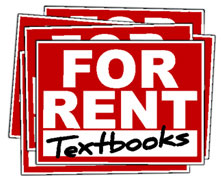 William Paterson students are now saving hundreds of dollars at the start of each semester by renting their textbooks instead of buying them.
Rent-A-Text, a new program adopted by Follett Education Group, the company that operates the University's bookstore, is saving students up to 55 percent off the cost of new textbooks.
"Just about all the students who can rent their books have been taking advantage of the program," says Scott Dunlap, director of the University's bookstore. "They really appreciate the up-front savings at the point of purchase, as opposed to buying a book and not knowing if they can resell it."
Naima Ricks, a senior majoring in sociology, gives the program two thumbs up for being easy to do and a big savings. "I rented five books for $100 this semester, when it would have cost me about $250," says Ricks.
Approximately 38 percent of book titles are now available for rental and the percentage is expected to increase, according to Dunlap.
Once students complete the rental agreement, they are able to rent textbooks online or at the bookstore. Students are allowed to highlight text and write in the rented textbooks as part of the normal wear and tear. They may also convert a rented textbook into a purchase at anytime.
The program accepts the same forms of payment used to purchase books, including the Pioneer card and student aid. For more information, visit the campus bookstore in person or online at www.wilpaterson.bkstr.com.
08/24/10