William Paterson University to Hold Film Screenings About America's Civil Rights Struggle in Observance of the 50th anniversary of Martin Luther King's March on Washington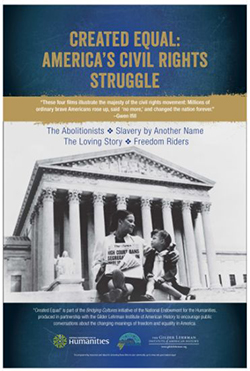 ---Screenings are held in collaboration with National Endowment for the Humanities and the Gilder Lehrman Institute of American History
---Documentaries to be screened on campus and at Paterson Public Library
To mark the 50th anniversary of Martin Luther King's March on Washington, William Paterson University will screen four documentaries with new footage illustrating the history of civil rights in America. The first two will be screened on November 6 and December 5. Each will be followed by discussion led by a University professor.
The Abolitionists will be screened on Wednesday, November 6. It brings to life the struggles of the men and women led the battle against slavery. The discussion will be led by Daniel Meaders, professor of history, and an expert on the history of slavery and abolition.
Slavery by Another Name will be shown on Thursday, December 5. The film tells the story of the huge system of forced, unpaid labor mostly affecting Southern black men up to World War II. The discussion will be led by Terence Finnegan, professor of history, and an expert on the history of violence and terrorism in the U.S.
Both programs are free and open to the public. Two sessions will be held each day. The first will be held in the Cheng Library Auditorium from 3:30 to 5 p.m., and a second session will be held from 6 to 7:30 p.m. at the Paterson Public Library Assembly Room.
Two additional films, The Loving Story and Freedom Riders, will be screened in 2014.
Created Equal: America's Civil Rights Struggle is an initiative of the National Endowment for the Humanities (NEH) that uses the power of documentary films to encourage community discussion of America's civil rights history. NEH has partnered with the Gilder Lehrman Institute of American History to develop programmatic and support materials for the sites.
For additional information, contact Richard Kearney at 973.720.2165 or visit wpunj.edu/library/createdequal.
10/29/13