Justin Kauflin '08: Bringing Joy Through Jazz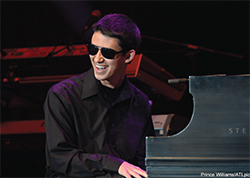 Justin Kauflin '08
By Barbara E. Stoll '93, M.A. '94

A lifelong interest in music has led to a fast-moving career for twenty-seven-year-old Justin Kauflin, a 2008 graduate of the University's renowned Jazz Studies Program who spent several weeks this summer on a world tour with famed musician Quincy Jones that included a stop at the Montreux Jazz Festival in Switzerland, one of the music world's premier festivals.
Heady stuff for this low-key young man from Virginia Beach who has been immersed in music since a very young age, when he started lessons in classical piano and violin. As a boy of six, he began performing in concerts, at weddings, and in nursing homes.
He continued to grow musically, but by age eleven he lost his vision to a rare eye disease. At fifteen, he auditioned for a performing arts high school, where he was encouraged to study jazz piano.
"I wasn't planning on getting into jazz," he says. "The professors thought there was too much sight reading. That's not to say I couldn't have learned the music. But as a pianist I would have to accompany a vocalist or another musician with only a quick review of the music and then perform."
"Jazz is an aural music," he adds. "I learn by ear, and reading Braille music."
Learning jazz music was dramatic for him because it changed the playing field. "I felt on equal ground with my peers for the first time, and was able to excel musically. It opened doors for me. I was always passionate about it, but I started to think that jazz might be something I could pursue as a career."
To further that ambition, he came to William Paterson to study jazz. Here he met the legendary jazz pianist, the late Mulgrew Miller who was director of the program.
"He was my hero," Kauflin says. "He was an incredible pianist and I was very excited to study with him. Professor Miller taught me the importance of making a connection with the audience, and to have the proper respect for the tradition of music and performance."
Another William Paterson influence is Clark Terry, the renowned trumpeter and one of contemporary music's great innovators and educators, and a permanent artist-in-residence at the University. Terry, who is ninety-two, began his career in the 1940s and 1950s with Count Basie and Duke Ellington, and today is recognized as one of the most influential trumpeters in jazz history.
"Clark is a real mentor to me," he says. "During a concert, he pulls the audience in by explaining the music and using humor to make them comfortable. Music is a performance, but it's more than just playing. That's something I'm still working on—being comfortable in front of an audience and meeting them halfway. I want them to relate to the music, and get the emotional and spiritual part of it."
When asked about Kauflin, Terry is full of praise. "I've been working with Justin for almost ten years now, and he's such an excellent musician," says Terry. "I'm so very happy that Justin and Quincy Jones got together; it was an amazing coincidence that they were both here at our home at the same time, and Quincy heard Justin. That was what started it all. Quincy took Justin on his eightieth birthday tour, worldwide, and got Justin into some beautiful stuff. It was a life-changing experience for Justin; he hasn't been the same since! Quincy realized what a great talent Justin is; he is such a joyous person!"
Kauflin will appear in a new documentary about Clark Terry, Keep on Keepin' On, currently in production with Quincy Jones at the helm. It is scheduled for release in 2014.
He has won numerous awards including Jazz Artist of the Year by VEER Magazine and was a recipient of the International Young Soloist Award which included a performance at the Kennedy Center.
Kauflin's trio has headlined regularly at Havana Nights Jazz Club in Virginia Beach where he is also the house pianist. He composed, produced, led, and performed on a CD, Introducing Justin Kauflin. and is working on a second album.
"I'm doing exactly what I hoped to do," he says. "I bring joy and enrichment to people through my music."
11/22/13