Jazz Benefit Concert Honoring the Memory of Rory D. Quince to be Held on Tuesday, June 22 in Shea Auditorium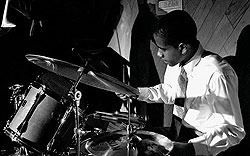 Rory D. Quince
A benefit concert in memory of Rory D. Quince, a student at William Paterson University who lost his life in a car accident in 2005, will be held at the University's Shea Center for Performing Arts on Tuesday, June 22 at 7 p.m. Admission is $25.
All proceeds from the concert will go towards funding the Rory D. Quince Scholarship Endowment, a fund started by Quince's family in 2005 to create opportunities for deserving students who are studying music. The concert is an effort to raise additional funds necessary to endow the $25,000 scholarship.
Quince was a young jazz master drummer. At nine he played his first public concert with a seven-piece new music ensemble. At age thirteen he debuted with world-renowned trombonist Slide Hampton. Quince was a sociology major and actively participated in the University's jazz studies program.
He also was part of a musically talented family, including his parents Kelvin and Cora Quince, and his sisters Christina and Kaela, who will all perform in the concert.
The benefit concert will feature performances by: Patience Higgins on tenor sax, Calvin Hill on bass, Ralph Peterson, Jr. on drums; and "Boulevard" which includes Kaela Quince on alto sax, Malcolm Pope on piano, and Ivory Davis on drums.
Other performers include the Rory D. Quince Drummers Coalition for Christ; "Voices of Calvary Choir" under the direction of Enoch Smith of Calvary Baptist Church in Paterson, NJ; and the City Wide Marching Band.

The Rory D. Quince Tribute Jazz Ensemble will include performances by Reginald Quinerly on drums, Courtney McCain on piano, Patience Higgins on tenor sax, Calvin Hill on bass, Keith Evans on alto sax, Clyde Alford on drums, Christina Quince on violin/vocals, Cora Quince as soloist, and Kelvin Quince as pianist/composer.
David Demsey, William Paterson University professor of music and coordinator of the Jazz Studies Program, will serve as the master of ceremonies for the concert.

To purchase tickets or make a donation, please call the University at 973-720-2478 or click here to make a donation or order tickets online. All donations are tax deductible.
06/10/10